"Remember, you're not alone. 
You're part of an international 
brotherhood of artists and musicians. 
We're all in this together." 
—Art Farmer 

I aspire to be a Citizen of the World. 
A world citizen is a xenophile whose identity transcends geography. Rather than swearing allegiance to a particular nation, ethnicity, or religion, the world citizen treats everyone with equal respect, and derives his rights and responsibilities from membership in the human race at large. He endeavors to be a man for all people.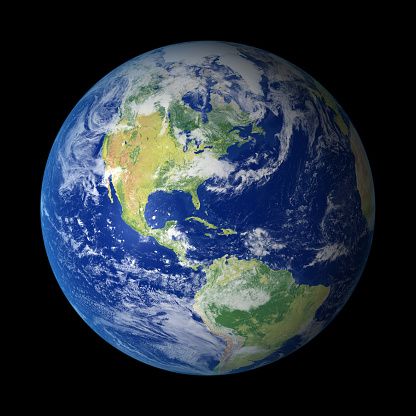 I aspire to be a Citizen of the World.
Art Farmer was such a man. At the height of his success, as his Jazztet was winning American popularity polls, Art relocated to Vienna, Austria, then commenced to tour internationally for decades. His extensive discography includes dozens of collaborations with musicians all over the world. Near the end of his storied life and career, he was awarded both the NEA Jazz Masters Fellowship, the highest honor our nation bestows upon a jazz musician, and the prestigious Austrian Cross of Honor for Science and Art, First Class.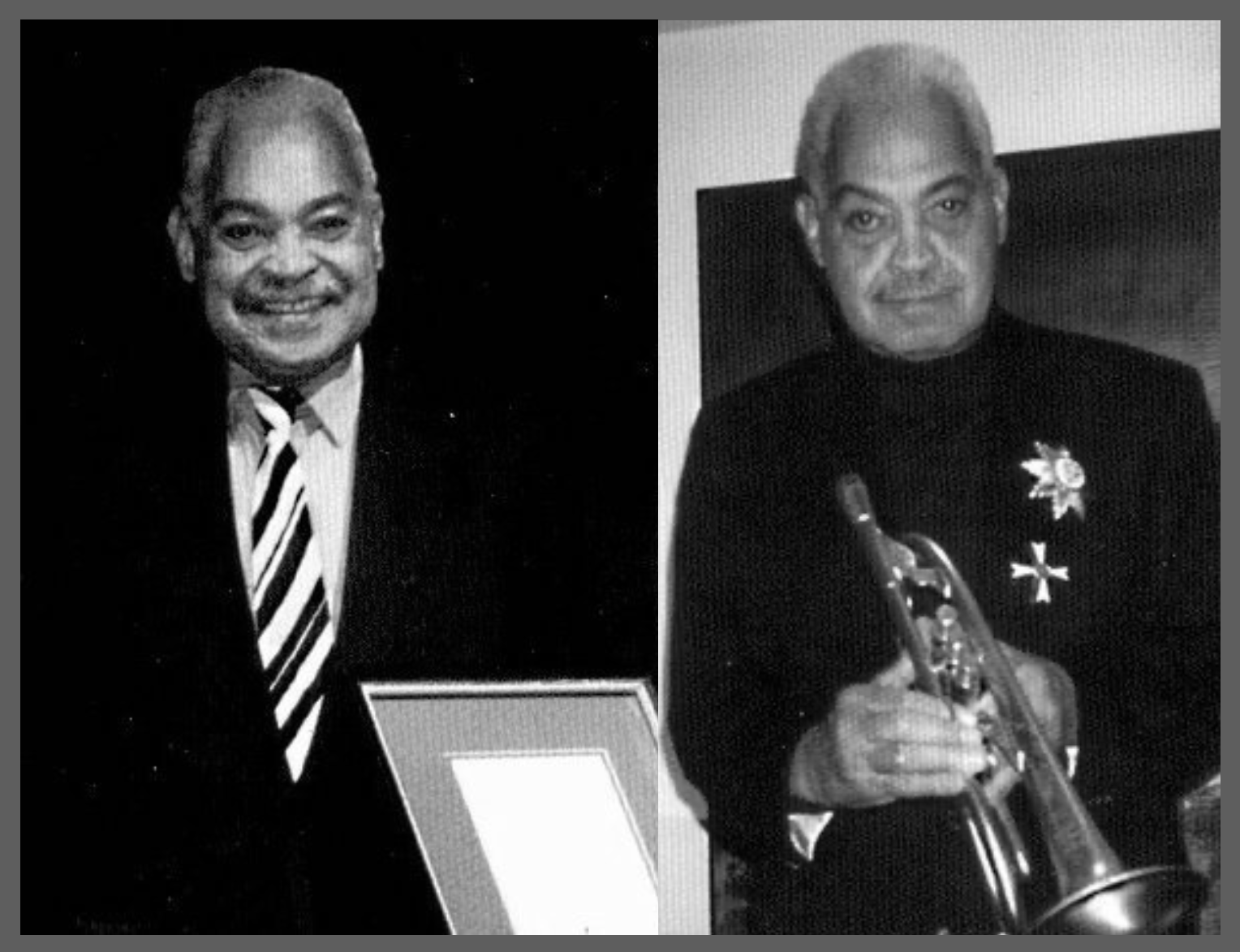 World Citizen Art Farmer received the highest honors in both America and Austria 
Art had been an adventurer ever since he was a teen, when he and twin brother Addison set out for Los Angeles in search of their destinies. But even after many productive decades in the music business, Art never lost his humility or curiosity. He knew that his chosen career of traveling musician granted admission to the global creative class, an identity he cherished as the foundation of his enlightened worldview. 
"Remember, you're not alone," Farmer told a room full of aspiring jazz students at Stanford University. "You're part of an international brotherhood of artists and musicians. We're all in this together." 
Art Farmer's philosophy resonated deeply with me, perhaps even more than his brilliant, lyrical music. He was "beyond category," a true Citizen of the World, and I was inspired to live by his example. 
In the years since my mentor's passing, I've been fortunate to enjoy many opportunities for international travel with family, friends and fellow musicians. Occasionally I experienced little more than a hotel and concert hall, but whenever time would allow, I made sure to get out, see the sights, and break bread with the locals. I've watched the sunrise in Tuscany, climbed the cliffs of Santorini, serenaded penguins in Patagonia, viewed fireworks over Bangkok, and listened to evening prayers echo through the streets of Jakarta. I've visited an artist in Kyoto, a tea master in Uji, a winemaker in Alsace and a chocolatier in Brussels. I've met so many fascinating people in my travels, several of whom have become lifelong friends. 
I'm grateful to the bandleaders who invited me to be part of their international adventures, notably Suzan Lesna, Keiko Osamu, and especially Amina Figarova, with whom I recorded two albums and performed in a dozen different countries on tour. For several years in the late nineties and early aughts, Amina and her husband Bart generously hosted me at their home in the Netherlands each fall, an annual residency that enriched my life beyond measure. I love and admire them both as artists, friends, and world citizens.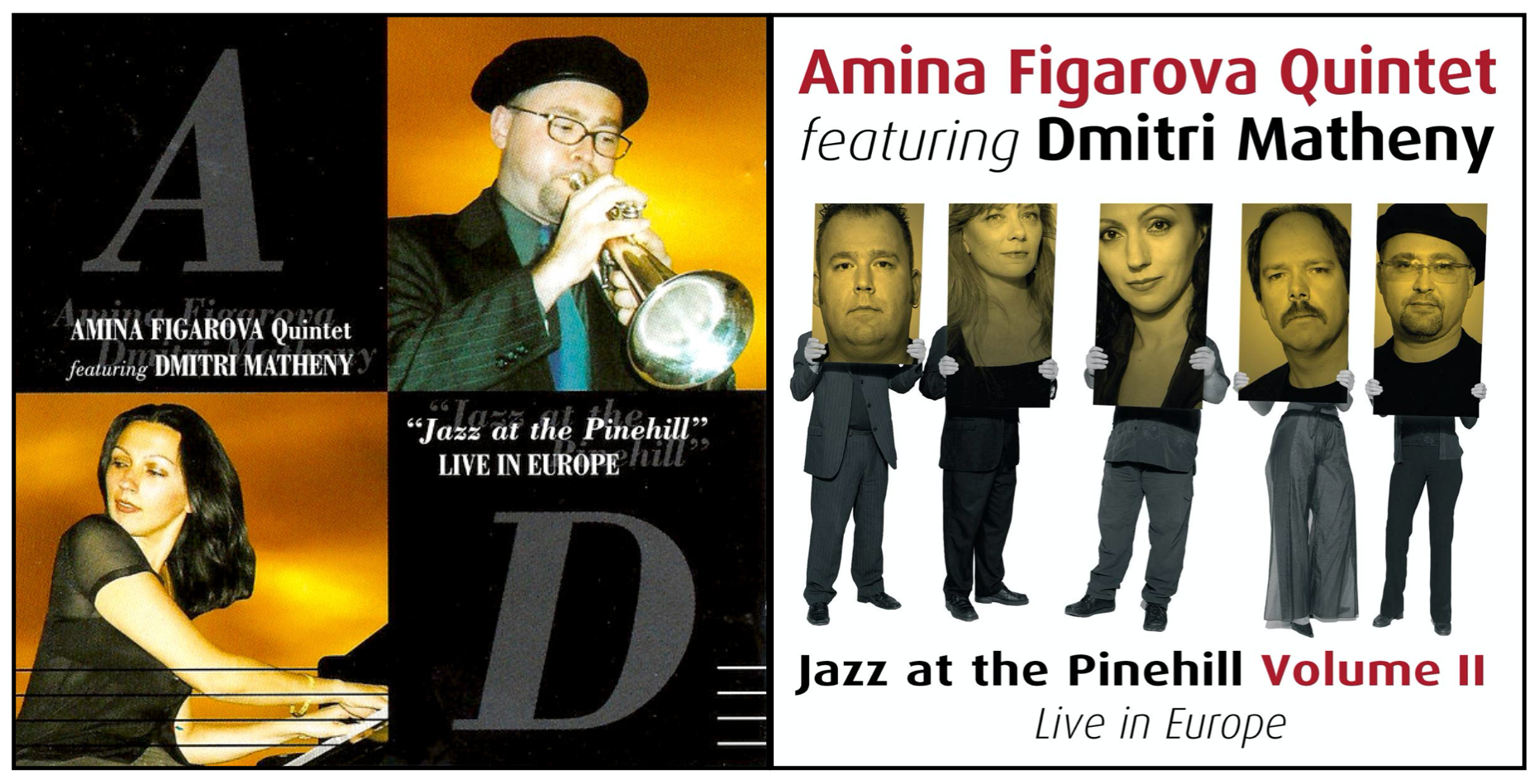 It was my privilege to record two albums with Amina for Munich Records 

Although I never became a pilot (holding out for a jetpack, I suppose), I never missed an opportunity to fly, and the long international flights were often most luxurious. Singapore Airlines provided big leather chairs, soft lighting, and an array of Asian delicacies. British Airways offered formal tea and cakes; Japan Airlines served sake and sushi. Virgin Airlines had spa treatments and sleeping pods. And KLM, my favorite, boasted a gorgeous cohort of leggy blonde stewardesses, whose fitted blue uniforms and winning smiles harkened back to the Golden Age of Air Travel. 
The airports, however, were chaotic, unpleasant places. Everyone was on high alert after 9/11. Departure meant grappling with the recently formed TSA, whose agents relished their nascent power like freshly minted mall cops. Arrival meant trying to appear inconspicuous under the gaze of scowling soldiers, in full riot gear, with machine guns. 
We learned to allow an extra hour or two for security screening, during which agents would empty our bags, disassemble our instruments, pat us down and shout commands over the hum of x-ray scanners. "Empty your pockets! Take off your belt and shoes! No liquids!" On one occasion I was pulled out of line, strip-searched down to my socks, and interrogated. "What is this?" barked the agent, holding up my tiny bottle of valve oil. "And exactly what sort of name is Dmitri?" he demanded suspiciously, squinting at the random assortment of stamps in my passport. 
But it wasn't always so bad. One of my favorite airport memories was arriving in Baku, Azerbaijan for the 2002 Caspian Sea Jazz Festival. I'd been working with Amina for several years, and was thrilled to see her ancestral homeland for the first time. I wanted to find out what sort of Silk Road Shangri-La could produce such a regal, charismatic bandleader. I nicknamed Amina "The Diva," and often teased her about her aristocratic lineage and manner, but I didn't fully appreciate where she was coming from until that day. 
We arrived in Baku exhausted, to long lines of weary, grey-faced travelers. Prepared for a long wait at customs, we took our place at the back of the crowd. Suddenly a dapper gentleman in a dark suit appeared beside us. He smiled warmly, greeted us by name, placed our passports in his breast pocket, and handed Amina a giant bouquet of flowers, kissing her on both cheeks. The distinguished official then ushered us briskly through the crowd, past customs, down a private corridor and straight outside, where a ceremonial honor guard stood waiting at attention beside a row of shiny black town cars. "Apparently Amina is kind of a big deal around here," I muttered to no-one in particular. 
I was right. The whole band was wined, dined, and treated like royalty. There were welcome gifts, guided tours, shopping excursions to the Taza Bazaar, and even a special banquet in Amina's honor. We feasted on grilled lamb, champagne and caviar, serenaded by a traditional darbuka ensemble complete with belly dancer, who danced with all of us after dinner. The evening concluded with an astonishingly long series of celebratory cognac and vodka toasts to Amina, her family, and the band. It was a glorious evening.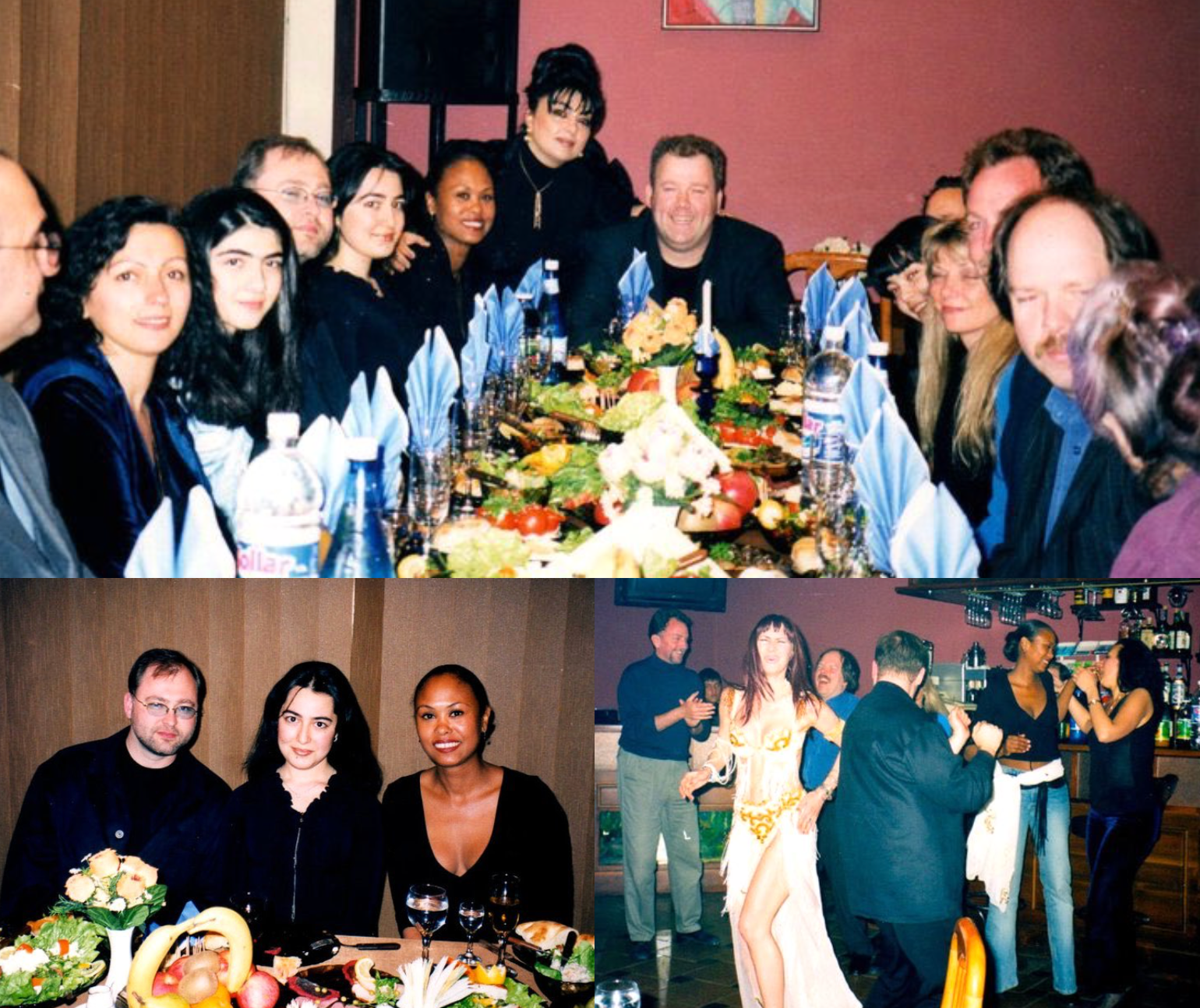 the whole band was wined, dined, and treated like royalty 
The festival itself was a triumph of concerts, workshops, jam sessions and creative collaboration. I'll never forget the delightfully surreal evening we spent at the Caravan Jazz Club, where we performed the funk classic "Pass the Peas" with an international superband of Sax 'N Hop (Germany), Toots Thielemans (Belgium), our quintet (Azerbaijan, Belgium, Netherlands, USA), and half a dozen hungry young horn players. 
But the great highlight was our concert at the historic Respublika Palace theater. We played our hearts out, and the band never sounded better. Amina's modern jazz compositions, especially the ones inspired by traditional Azeri folksongs, were a huge hit with the hometown crowd. The audience cheered wildly.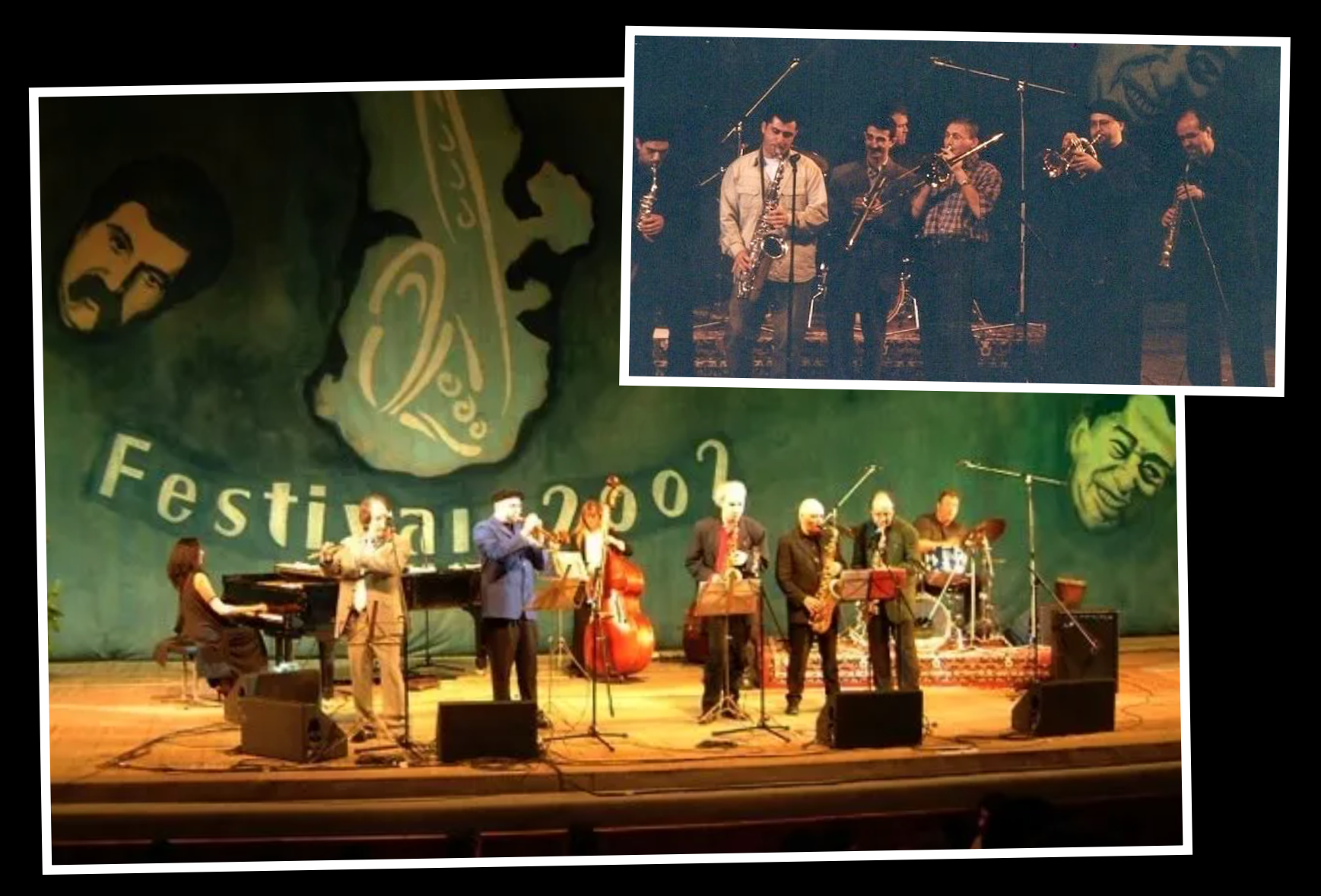 the highlight was our concert at the historic Respublika Palace theater 
20 years later, I still aspire to be a Citizen of the World, but no longer wish to to travel so far, or so often. Touring is a young man's game, and my jet-setter days best be behind me.
My new dream is a little more down-to-earth. I'm now in the market for a small camper van with a bed in the back, a simple "tour bus" in which my dog Scout and I can ramble around the western states together.
We'll take our time, travel the back roads, see the sights, and break bread with the locals. 
And who knows? I might even play a gig or two.