Damien Chazelle's 2014 film Whiplash follows the fraught relationship between a brutally masochistic music teacher, Fletcher (J.K Simmons), and his ambitious student, drummer Andrew (Miles Teller). 
According to Slate critic J. Bryan Lowder, "Fletcher and Andrew are both obsessed with Greatness, but the specific sort they're after is important: it's a wholly masculine definition of the term, one tied to notions of jackhammer precision, overwhelming prowess, physical dominance, and solo victory. Alternative values like sensitivity, idiosyncrasy, gracefulness, and collaboration, despite being deeply compatible with jazz, are not admitted to their rehearsal room."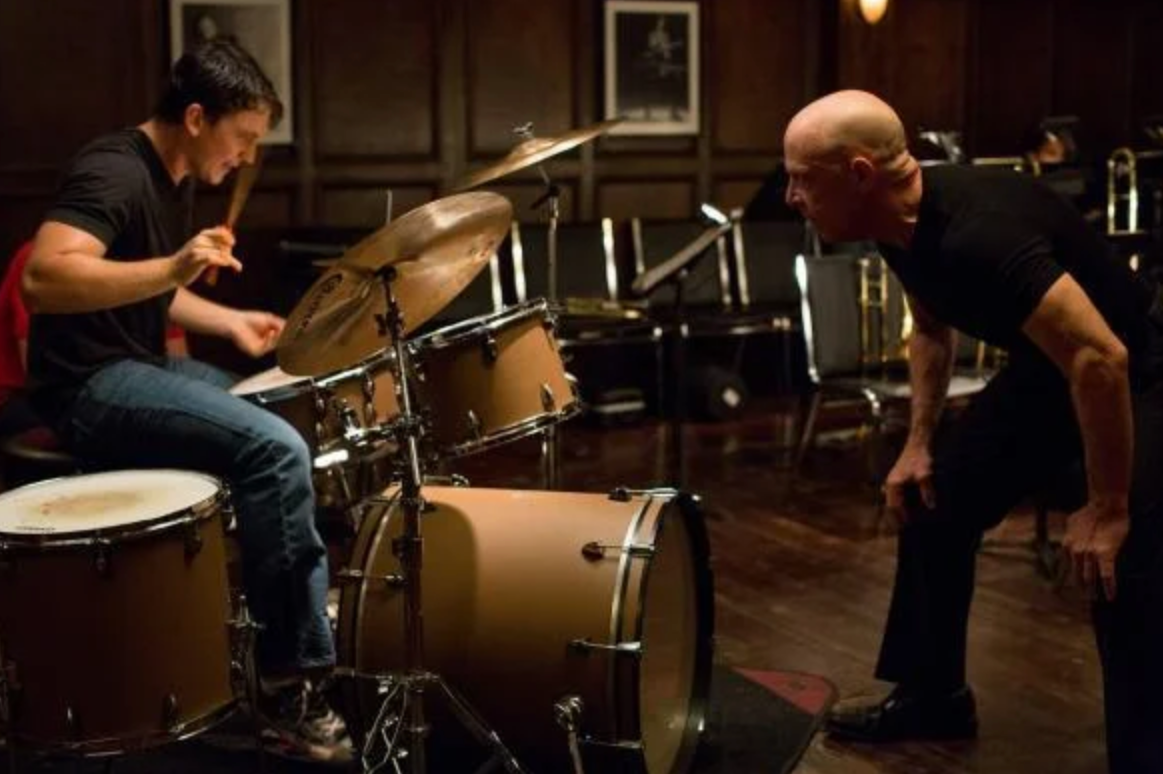 Miles Teller and J.K. Simmons in Whiplash
I couldn't agree more. Whiplash shows us a heightened, yet weirdly accurate, view into the misguided toxic masculinity endemic to today's jazz education subculture.
Talk to your musician friends who've seen the movie. They're likely to share stories of their own about similar abuse suffered in their formative years. One of my colleagues actually said, "Whiplash triggered my Jazz Camp PTSD!"
I thought of that movie again yesterday, during a college workshop. As the students and I listened to Stitt and Rollins hold forth on "The Eternal Triangle," I found myself astonished anew, not just by the brilliance of their ideas, but by the joyously playful, positive, collaborative spirit of their "tenor battle."

"The Eternal Triangle" from Sonny Side Up
Dizzy Gillespie with Sonny Stitt and Sonny Rollins
If all cutting sessions were so inspired, I would be a fan.
To me, however, "jazz competition" is an oxymoron. 
We're going to have a contest to see who can be the most vulnerable? The most sensitive or sincere? To find out who among us can best lay bare our soul and play from the heart? 
Every year on tour I hear dozens of excellent high school groups, all over the country, investing hours of rehearsal time, polishing the same Duke Ellington charts in preparation for the annual Jazz Hunger Games.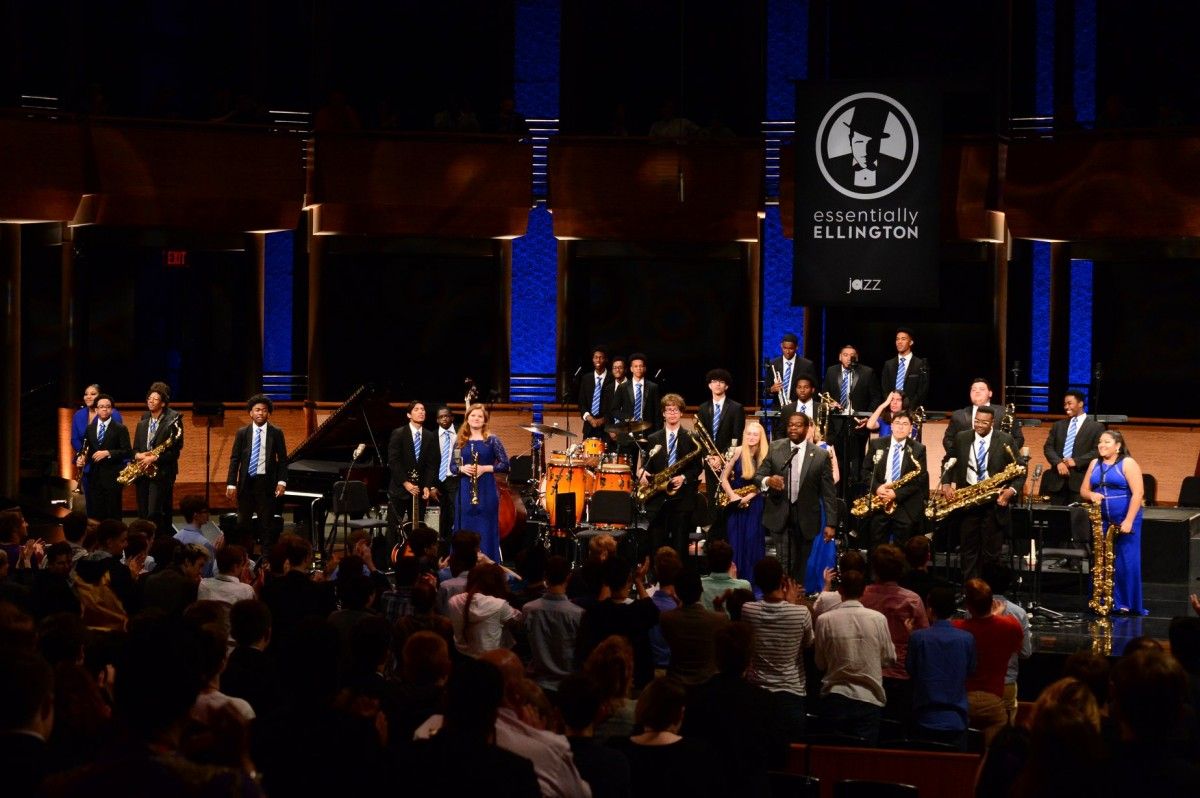 Jazz Hunger Games
While it's gratifying to witness Duke's music being disseminated so widely, I have to wonder if these young musicians might be better off exploring a larger repertoire of sounds and styles, learning to sight read, listen and improvise. 
Of course, there is such a thing as "healthy competition" in the arts. Setting challenges and overcoming them is how we improve. 
Competitive, however, is not the correct mindset for quality music-making. This art form is interactive. It's about listening and openness. Conversation, not competition. ​ 
Personally, I don't feel that I'm in competition with other artists. I'm competing with Netflix, spectator sports, video games, social media and all the other distractions that vie for your leisure time, attention and dollars. 
I welcome opportunities to work alongside and learn from my betters. I always try to surround myself with talents greater than my own. Art Farmer said "if you're the smartest cat in the room, you're in the wrong room." 
One time Nicholas Payton dropped by my gig in San Francisco and schooled me on a ballad. It was like a ten minute graduate seminar on understatement and grace. 
Recently I had the opportunity to participate in a tribute to one of my longtime heroes, Tom Harrell, along with Joe Lovano, Kenny Werner, Sean Jones, Johnathan Blake, and several other world class musicians, including the man himself, who has never sounded better.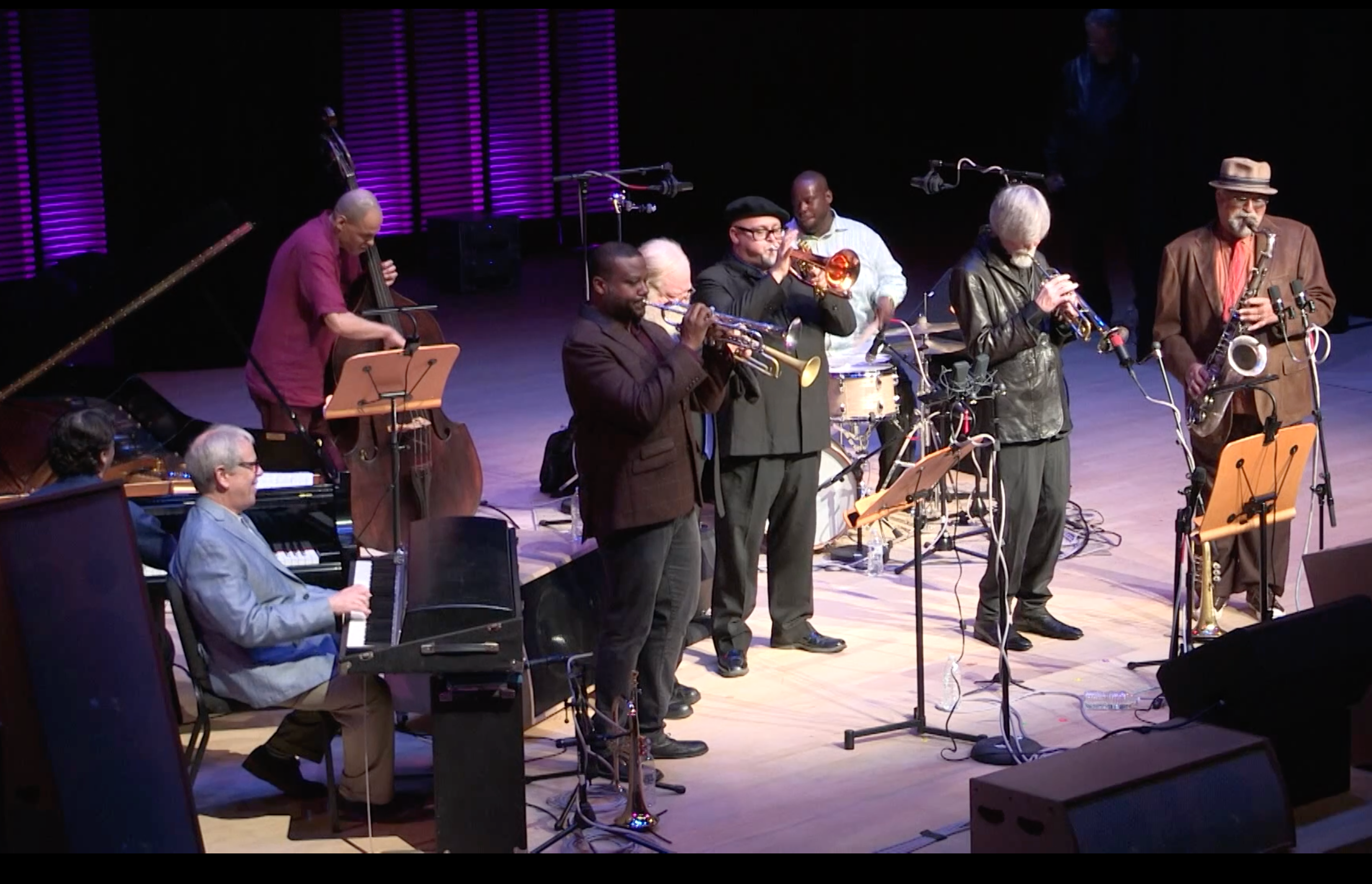 Tom Harrell Celebration (L-R) Tamir Hendelman, Kenny Werner, Ugonna Okegwo,
Sean Jones, Ron Stout, Dmitri Matheny, Johnathan Blake, Tom Harrell, Joe Lovano
Everyone involved was more capable and experienced than I. It was humbling and thrilling. I learned a lot and felt nothing but love and support in the room. There was no vibe. Everyone was there for Mr. Harrell. 
Wynton Marsalis says a cutting session is like a debate. And debates have their place, especially in the classroom. But wouldn't you really rather have a conversation? 
Personally, I think most cutting sessions are a drag. Everyone trying to play higher, louder, faster. Everybody posturing, posing, showing off, going for house. The atmosphere of a cutting session is like a Michael Bay movie full of explosions. I usually end up resenting the audience for enjoying such tripe. 
Here's a challenge: let's play lower, softer, slower -- with intensity. 
Let's play more soulfully. 
Let's just play.