"Untethered." 
That's the best word I could find to express the particular brand of loss that consumed me after my father died. 
I wasn't in mourning so much as weary and resigned to the cruel finality of mortality, both his and, by extension, my own. I was even a little relieved because his suffering was over. 
In a way, Dad and I had already progressed through the first four stages of grief together — from denial to depression — while he was still alive, in hospice care. Only acceptance remained. 
I miss him terribly, but truth be told, I've been missing him since long before he passed away. I miss the man he used to be, before Parkinson's and dementia robbed him of his mobility, wisdom and good judgement. By the time he succumbed to the disease, it had already been many years since we'd had a real conversation. Many years since I could benefit from his sage advice.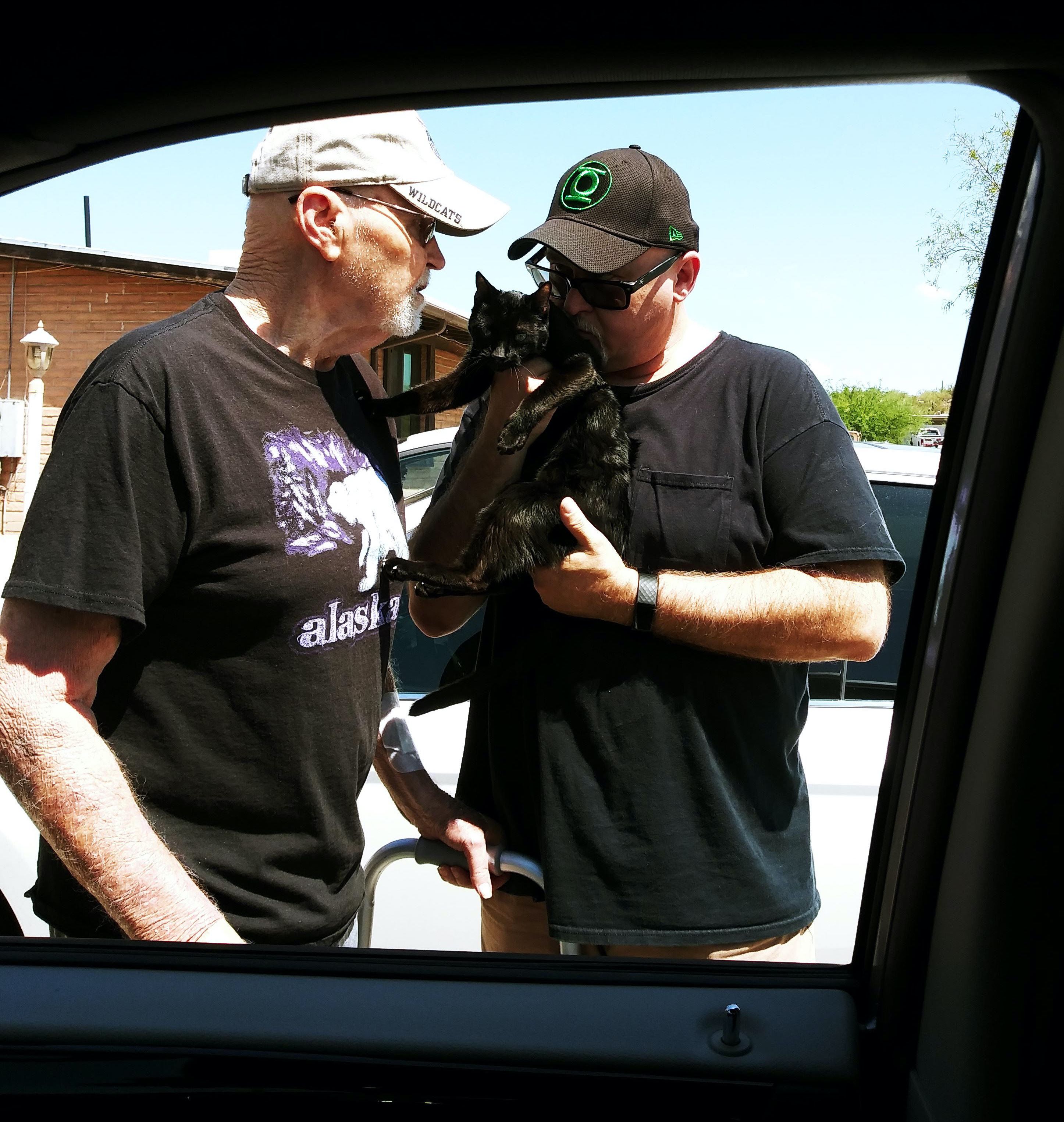 With both my parents now dead, and no siblings or children of my own, it's no wonder that I felt like an orphan. I'd experienced an inkling of that emotion only once before … when my marriage ended. 
Erica Jong describes divorce as "a ritual scarring that makes anything that happens afterward seem bearable." She's not wrong. I was gutted by the loss, not only of my wife and home, but of her family, whom I'd come to think of as my own. And I was surprised to lose nearly all the friends we'd collected over our 14 years together. It's deeply unsettling and disorienting, after so many years, to no longer be responsible for, or accountable to, anyone. 
But even during the dark days of my divorce, Daddy Bill was there to commiserate and console. He was in my corner always. He never wavered. And now he's gone. 
Because of the pandemic, I wasn't able to be with him when he died, but I did visit him frequently during his final few years. I would return to Arizona for a week or more each season, and would sit with him for hours each day before heading off to the evening gigs that paid my travel costs.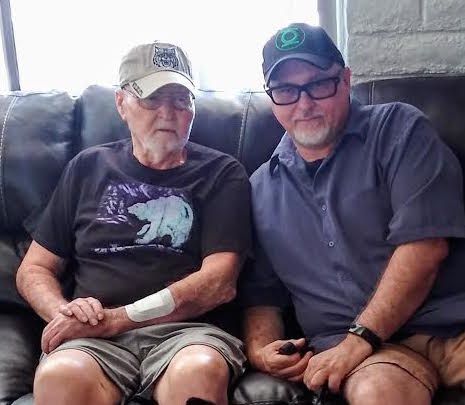 It's difficult to know whether these extended seasonal visits to his assisted living facility were a genuine comfort to my father. He was embarrassed by his circumstances, and often when I returned each morning he didn't remember seeing me the previous day. But every now and then his eyes would twinkle and he'd say something remarkably funny or insightful. He was still in there. 
Even in hospice care Dad somehow maintained a sweet disposition. For all his charm, however, he mostly avoided socializing with the other residents, opting instead to merely exchange pleasantries at meal time, then return to isolation. He had no interest in group activities or parlor games. He was a man who treasured his solitude, who loved to get outside and explore, but whose world had become oppressively small: a single twin bed in a tiny shared room. He often told me that he felt like a prisoner. It was heartbreaking. 
Sadly, he was no longer a man of letters, either. Books, his lifelong companions, were no longer of any interest. His hands weren't steady enough to write, his eyes weren't strong enough to read, and his attention span wasn't long enough to follow the narrative of a novel or movie. Much of the correspondence sent to him remained unread. He appreciated postcards, greeting cards, small talk, and short conversations, even phone calls, as long as someone could help him operate his device.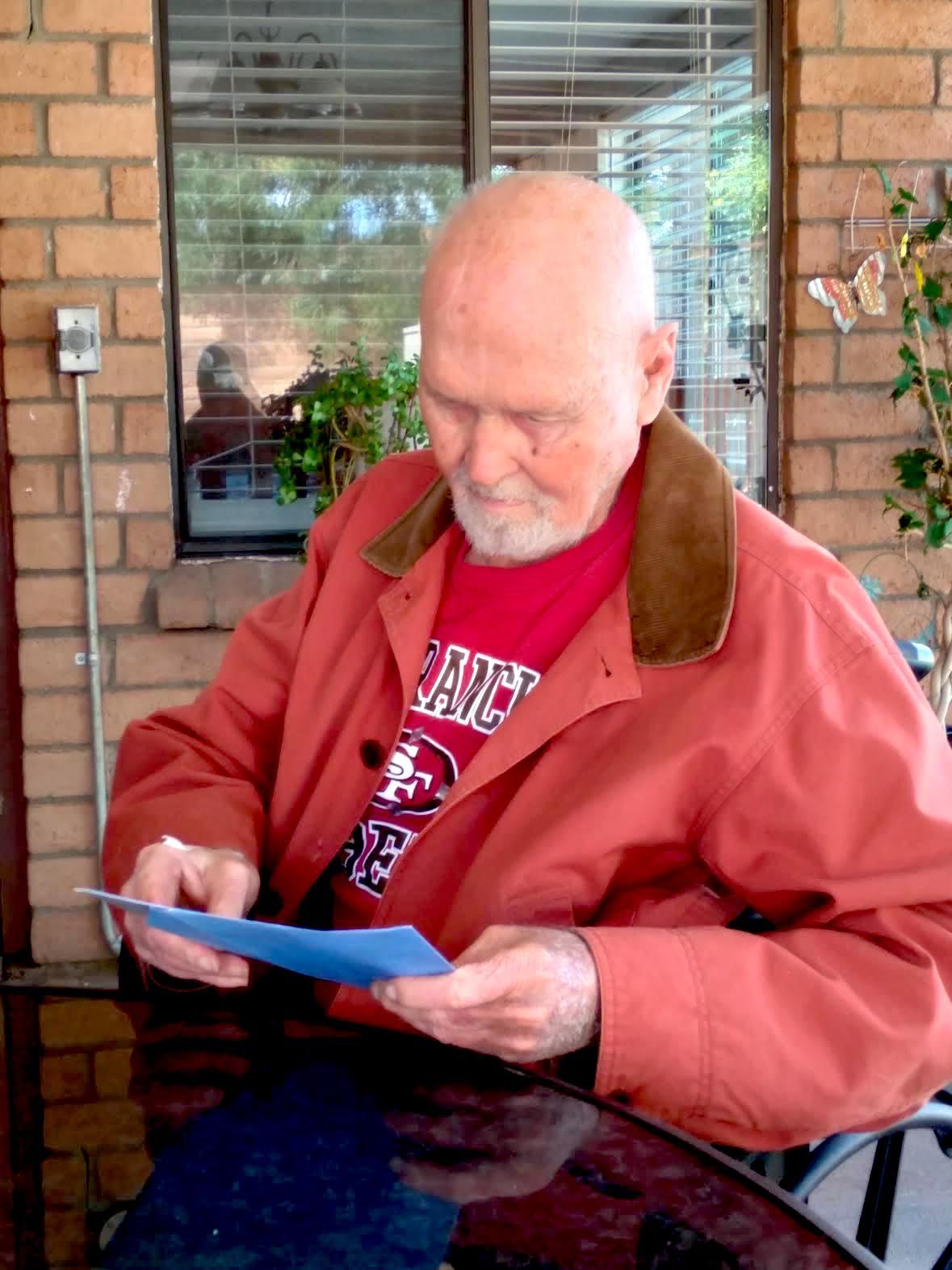 Most days I would just sit at his bedside and watch him drift in and out of sleep, while the TV spewed a continuous stream of conservative news and sports highlights. Sometimes we would talk about the weather or listen to an Eva Cassidy song. Occasionally we would venture into the other shared spaces of the care home, or sit outside on the patio, just for a change of scenery. But Dad needed to remain near the bathroom at all times, so we couldn't go far.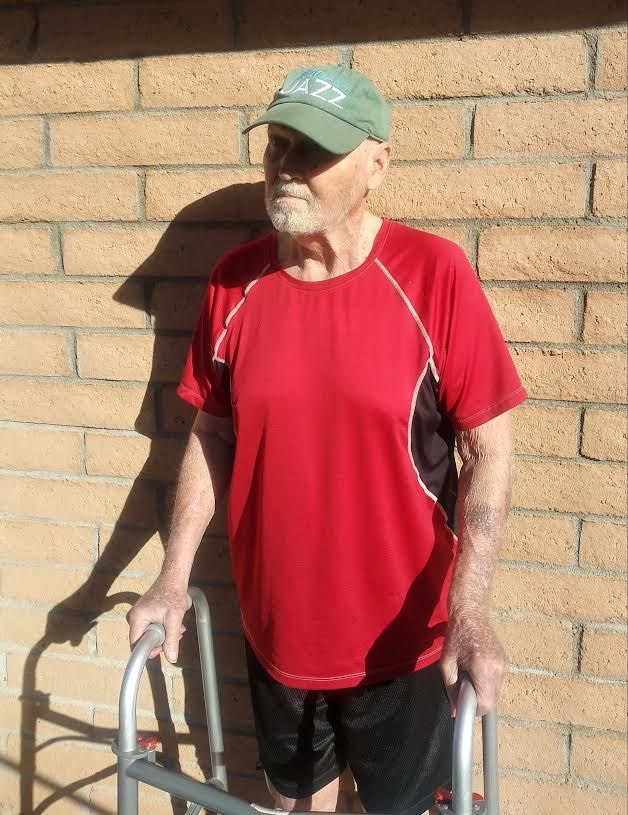 When he was able, we would shuffle around the tiny patch of desert surrounding the house. He tried valiantly to do it without his wheelchair or walker, but it was only a matter of time before even these small, slow walks around the block were too much for him. Yet even during our last few walks, although he struggled to finish a thought, he could still recall the latin names of all the neighborhood flora and fauna!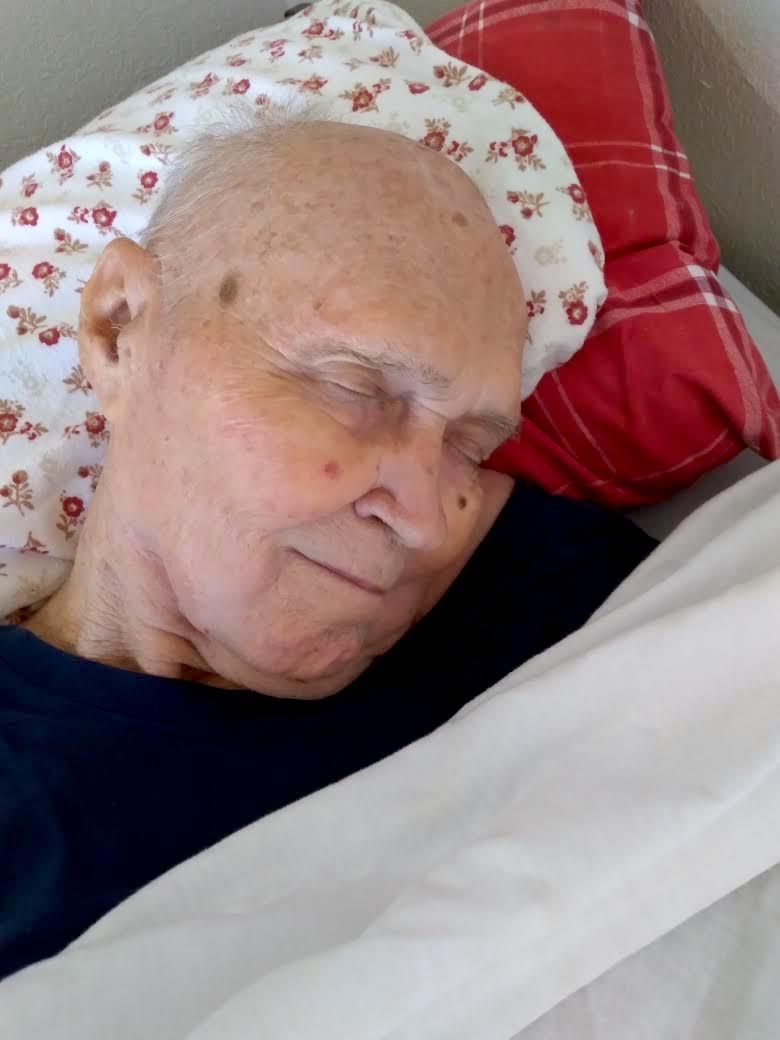 Dad's been gone for over a year now and the world is diminished by his absence. I miss him something awful. And I must confess, while I don't necessarily believe in an afterlife, I do find myself talking to him in quiet moments. I wonder what he would think of my life choices. I hope he would approve. 
Thankfully, I feel a little more "tethered" these days as I make a sincere effort to reconnect with distant friends and extended family. It's especially comforting to spend time with other people who knew and loved him. 
Mostly I just feel grateful for everything he was, and will remain, in memory.