Since childhood I've been haunted by three recurring dreams: the clown, the flying dream, and the shadow man.
THE CLOWN
I know, I know.  
Coulrophobia is is such a cliché.  
But this one's a bonafide nightmare.  
I'm a small child in a white void, lying on my back, pretending to be asleep. With my forearm draped across semi-closed eyes, I sneak a peek at the only other occupant of this ghostly expanse: a faux-jovial, bald circus clown with a floppy ruffled collar and a cone-shaped hat.
The colors of his clothes and make-up are washed out and faded, almost grey. He reminds me a little of Krinkles, the creepy Post Cereal huckster from Saturday morning cartoons. 
Krinkles, the creepy Post Cereal clown
The clown stands nearby but faces away, cradling a bright blue, plush velvet sofa pillow in his arms. He seems oblivious to my presence as he pantomimes what appears to be a fake television commercial. Silently mouthing his sales pitch into an imaginary camera, the clown gesticulates dramatically toward the pillow as if it's a wonderful new product.
Suddenly the clown stops smiling and becomes very still. His face loses all expression as he slowly turns in my direction. I sense that he now knows I'm here, awake and watching.
We lock eyes. A terrifying chill runs up my spine. At that precise moment, I awaken, my heart racing. 
I can't rationally explain the terror of this nightmare. What's so scary about seeing and being seen? But to this day, nothing frightens me so much as making eye contact with a clown. 
I endured these nightmares nearly every evening until my teen years when, inexplicably, they ceased. Decades later my mother Lela would mention having taken me, as a toddler, to the Ringling Brothers Barnum & Bailey Circus, but I have no memory of that experience. I do remember, however, the framed portrait of a grinning clown that she painted in oils and hung on the wall of my bedroom. 
I never much cared for that picture, especially after the nightmares began. 
THE FLYING DREAM
Curiously, my favorite recurring dream -- the flying dream -- centers around the same blue pillow. 
In this one I walk over to the sofa, pick up the pillow and take it outside.
Somehow I understand that this pillow is a talisman, imbued with magical powers.
I clutch the pillow to my chest and begin kicking my legs furiously, like a dog paddling in a pool. Gradually my body begins to levitate a few inches above the ground.

My neighbors watch in amazement. The higher I rise, the easier flying becomes, and the less I need to kick. Eventually I am able to float effortlessly in the sky, still clinging to the precious pillow as I sail above the clouds, over the town and all the tiny buildings and people below.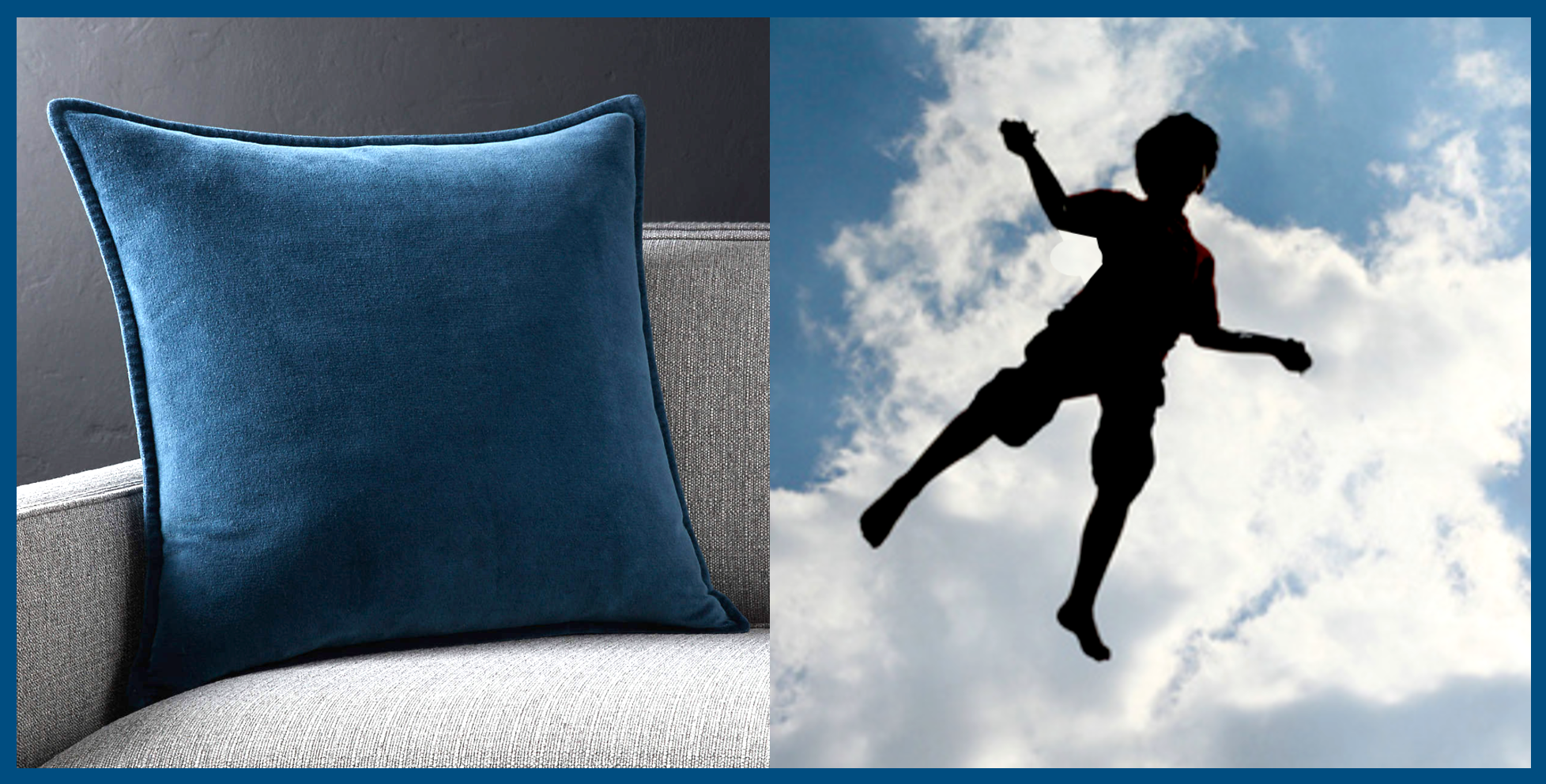 Why does the same blue pillow appear in both the clown nightmare and the wonderful flying dream?
 
I'm so deliriously happy that I feel my heart will burst from pure joy. I fly for miles, free and fearless, knowing that I'll remain perfectly safe as long as I don't let go of the magic pillow. I only awaken when I realize that I'm dreaming.
Although this wondrous nocturnal fantasy began around the same time as the awful clown dream, it returned more frequently and continued far longer, well into my adult years. I've flown over the Great Smoky Mountains, the Sonoran Desert and the Golden Gate Bridge. But was I dreaming or astral projecting?  
It's been a few years since my last night flight, and I miss it.
I swear, if I ever see that pillow again, awake or dreaming, I'm just gonna grab it and give it a go.  
THE SHADOW MAN
I hesitate to call this mysterious figure either dream nor nightmare. He always seem to visit during the hypnagogic twilight state between sleep and wakefulness. 
It's always the same story: I rouse in the wee hours with the uncanny sense of being watched. I open my eyes and peer around the room into the darkness. 

I'm not alone. There, in the corner, is the Shadow Man, a dark figure in silhouette with no discernible features except for a wide, flat-brimmed hat. He faces me, yet he has no face.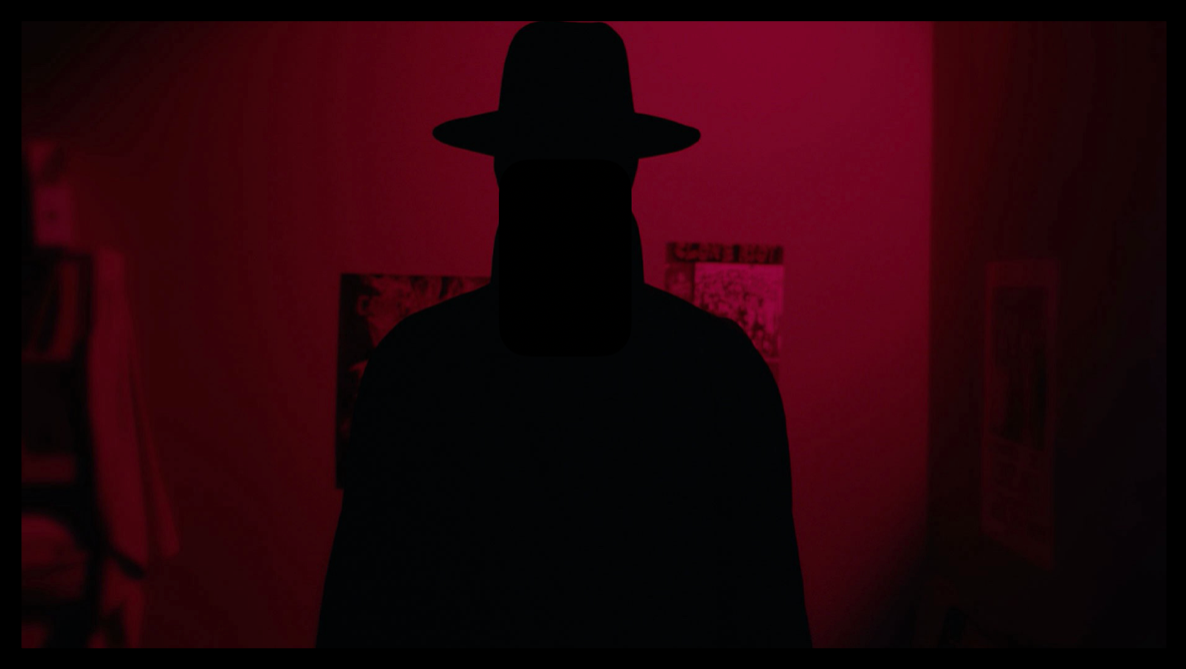 Is the Shadow Man watching me, or watching over me?
 
I've seen him many times in my own bedroom, while visiting friends, even in hotels on the road. He follows me in my travels, appearing only at night. He never moves or utters a word. If I speak to him, he doesn't answer. If I rub my eyes or turn on the light, he vanishes.  
Apparently my experience is not unique. The internet is overflowing with accounts of shadow people sightings all over the world. This is cold comfort for me, however, since it answers none of my questions.
Who is the Shadow Man? Is he real or an hallucination? What does he want? Does he intend harm or protection? Is he watching me, or watching over me? I may never know. 
His most recent visitation was five years ago, when my dog Scout was only a few months old. I awoke to find the puppy shivering at the foot of my bed, staring into the corner, her eyes like saucers. Even before I looked, I knew he was there.
"I'll be damned," I thought. "She sees him, too."