"That's the great thing about being a teenager. 
You think you're a genius."
—Daveed Diggs 
 
Thirteen wasn't quite the turning point I'd imagined last summer when I sold off all my comic books and action figures. I didn't suddenly become cool. I wasn't immediately transported to a magical land of heavy petting and house parties. 
I was still the same skinny little kid, honking my horn. And I still had to make it through the rest of the school year at Marana. In my memory those last few months of seventh grade are a surreal blur. 
I remember our teacher jumping up on top of her desk in a desperate attempt to win us over, howling "I'm WEIRD! I like WIZARDS!" And I remember how Jack quietly cleared his throat in response, a more subtle version of the snarky tween eye-roll. 
I remember a big panic over an outbreak of Valley Fever which later turned out to be "merely" a respiratory irritation caused by low-flying crop dusters. Delightful. 
Mostly I remember the awkward interactions with girls. There was prodigious Paula, who flashed her impressive tetas at me, then called me a "perv" for looking. And there was darling Debbie, who passed me a cryptic note on which she had scrawled, in big block letters, YOUR PENIS RUNNING OUT. 
What the --? I blushed, checked my fly, then spent the entire rest of that period trying to figure out what she could possibly mean. Is this flirting? Should I write back? What should I say? After class I breathed a sigh of relief when she handed me a pen and said sweetly, "I noticed yours was running out of ink."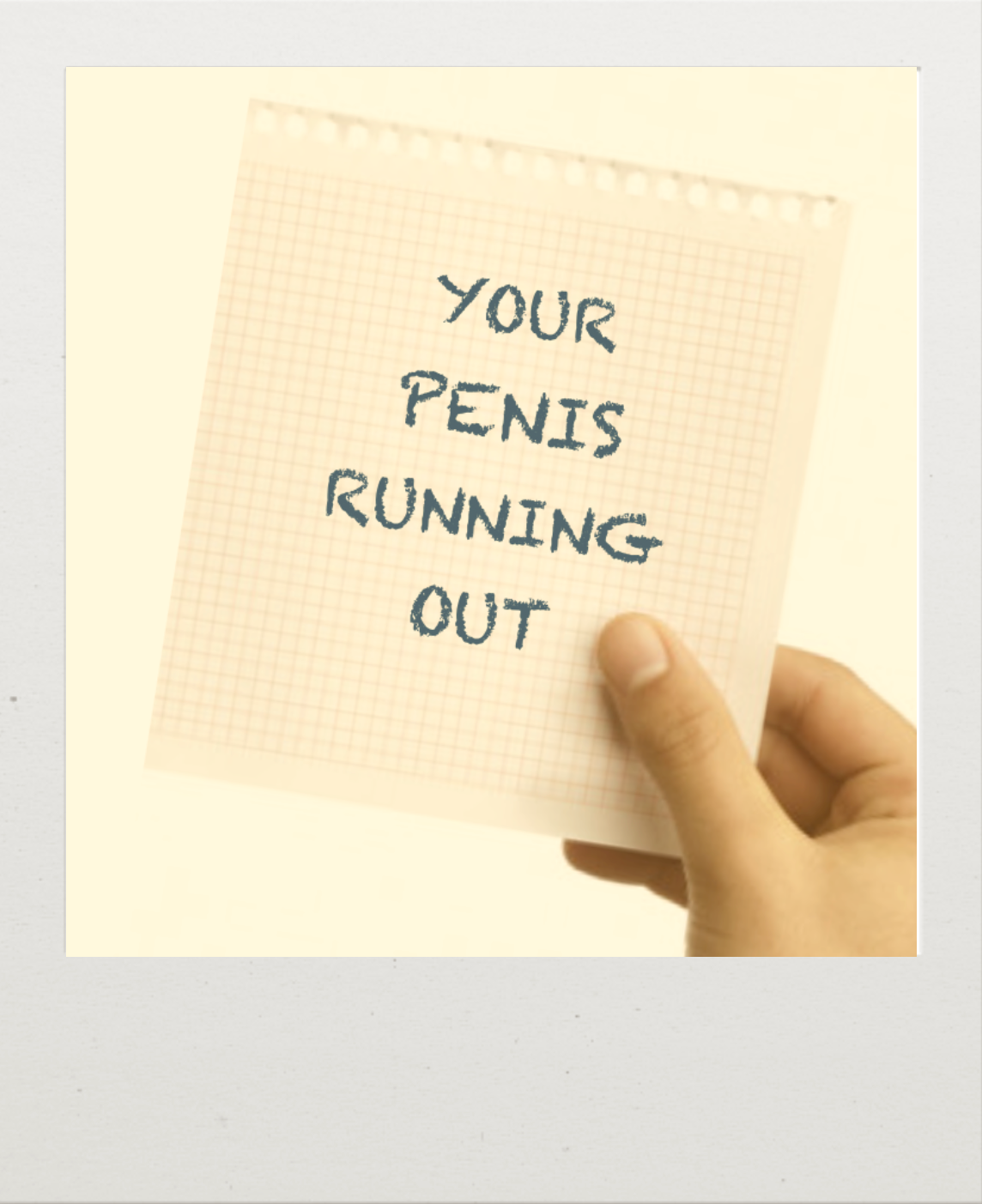 Another year, another U-Haul.
It's the summer of 1979 and Daddy Bill and I are loading our last few boxes into the back of the moving van at 22nd & Craycroft. "You about ready to go jump in that pool?" Daddy Bill asks. "You know it!" I answer enthusiastically. 
I'm finally a teenager and everything's new. New bike (got a ten-speed Schwinn for my birthday), new school (adios, Marana) and soon, a whole new me. The old man has even found us some great new digs over on the northwest side of town. I haven't seen the place yet, but Daddy Bill promises we'll have an even better view, a real air conditioner (adios, swamp cooler) and a swimming pool. 
Dad chose a terrific location for us. Next year, his last at Marana, he'll enjoy a shorter weekday commute and easy weekend getaways to Mount Lemmon and Sabino Canyon. Most importantly for me, our new zip code means I can now go to Cross Junior High for eighth grade and Canyon Del Oro for high school. "It's a better school district with more resources," Daddy Bill says, "and I hear they have a pretty decent music program, too." 
We'll see next fall. In the meantime, summer vacation has only just begun and I'm excited to see our new place. 
Moving from one modest two-bedroom apartment to another less than twenty miles away might sound like no big deal, but I feel like we've hit the lottery.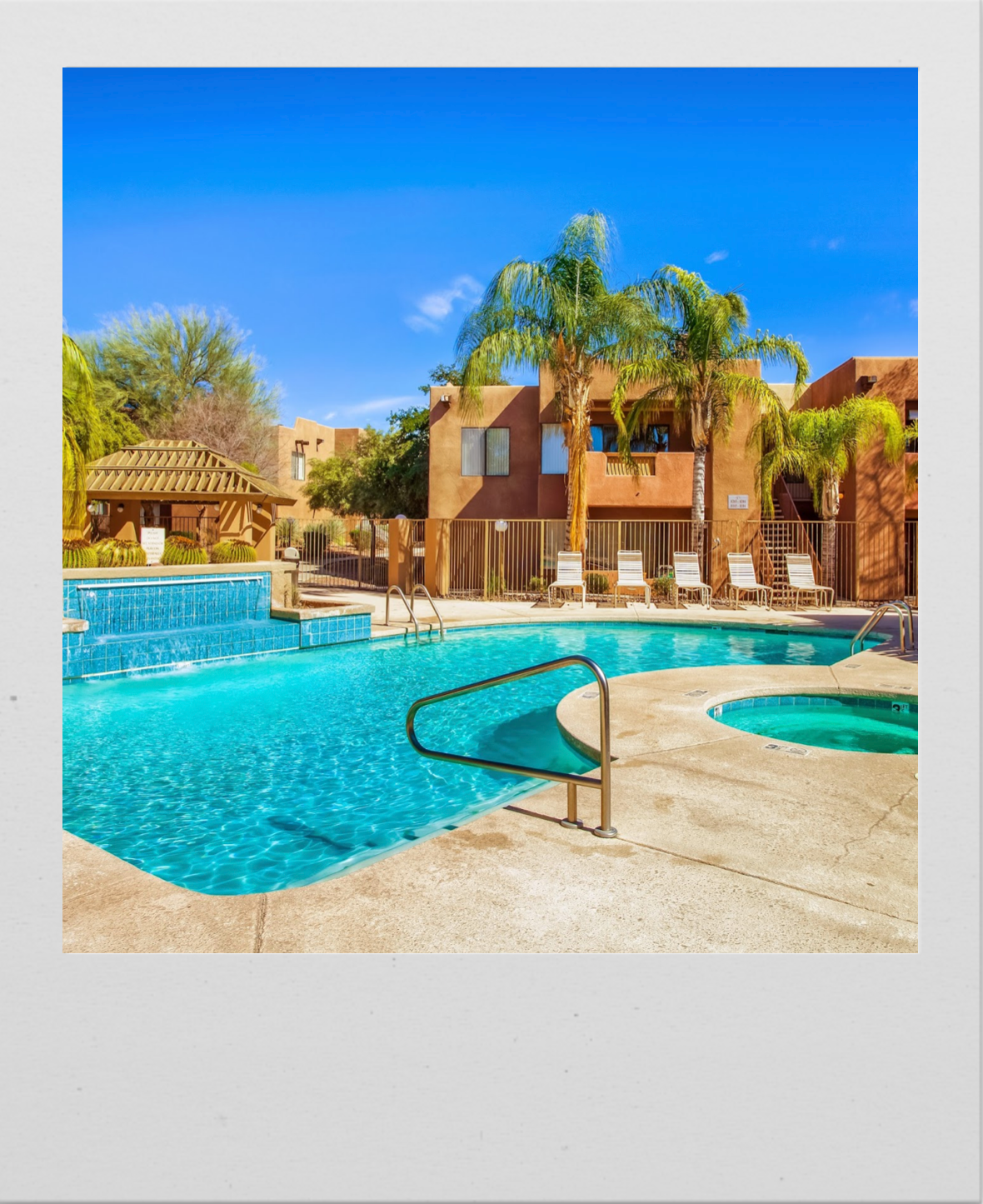 Coronado Apartments at Mona Lisa and Ina is a major upgrade. The complex feels almost like a luxury resort, with its grand Spanish Colonial architecture, tall palm trees, shady courtyards and manicured lawns. 
The swimming pool is as advertised. There are also tennis courts, a fitness trail, and even a kid-friendly clubhouse with air hockey and billiards tables. Plenty of kids my age live at Coronado and in the middle-class suburb surrounding us, where ranch style family homes nestle safely in the shadows of the Catalina Foothills. 
I love the new neighborhood and can't wait to explore. I ride my ten-speed through miles of unspoiled desert scrub and citrus trees. Up at Ina and Oracle I discover a retail oasis called Casas Adobes Plaza where I grab a BLT at the drug store lunch counter before exploring a treasure trove of curiosities on the shelves of Bullard's Hardware.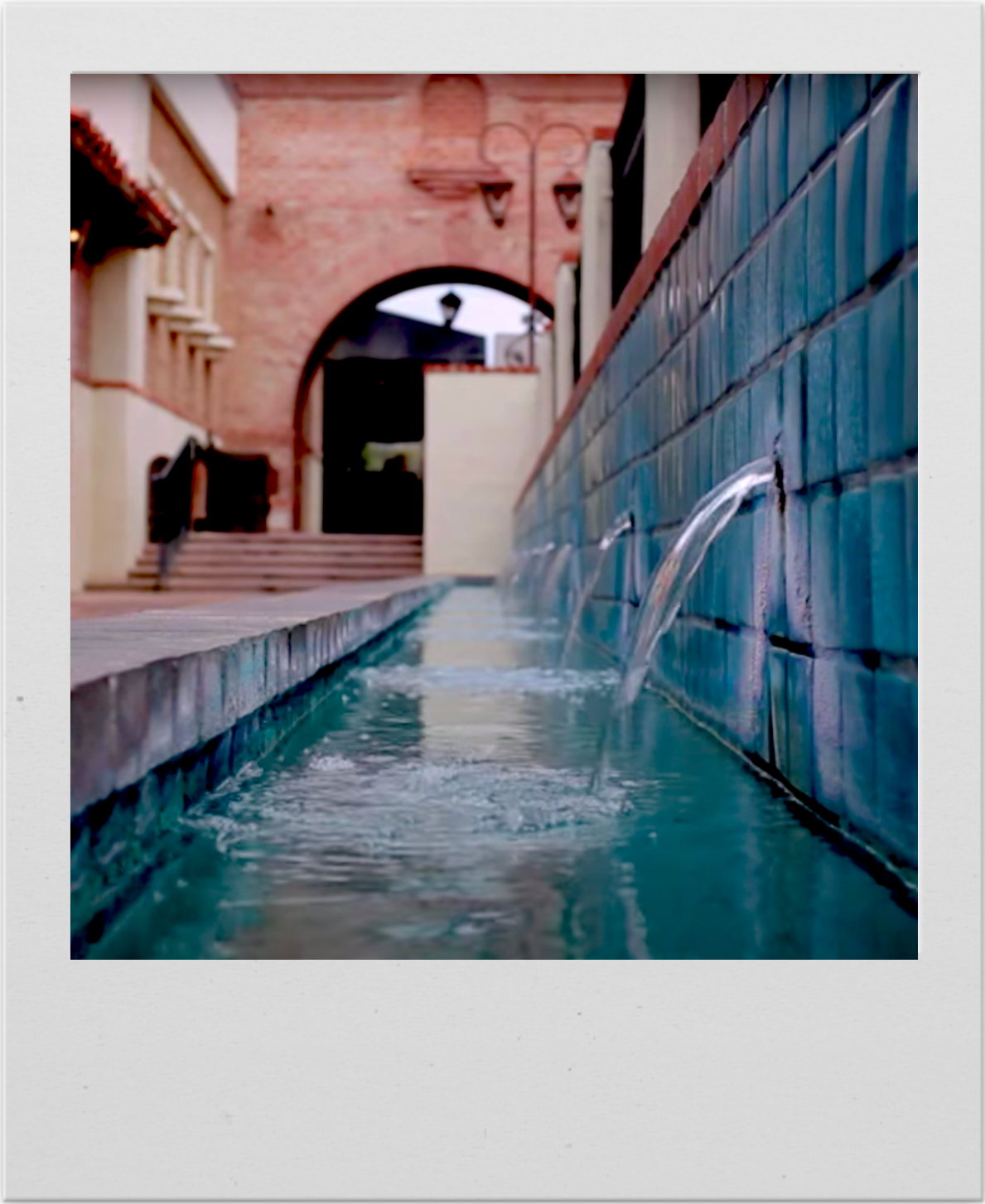 Life is good.
Jack comes over often and Dad enjoys his visits as much as I do. The three of us stand together on our balcony, listening to Ray Charles and admiring the colorful Santa Catalina mountains. Daddy Bill puffs his pipe and bends Jack's ear about music and sports and whatnot. At sunset he throws three burger patties on the grill.
"Y'all like 'em charred, don't you?" he asks with a wink.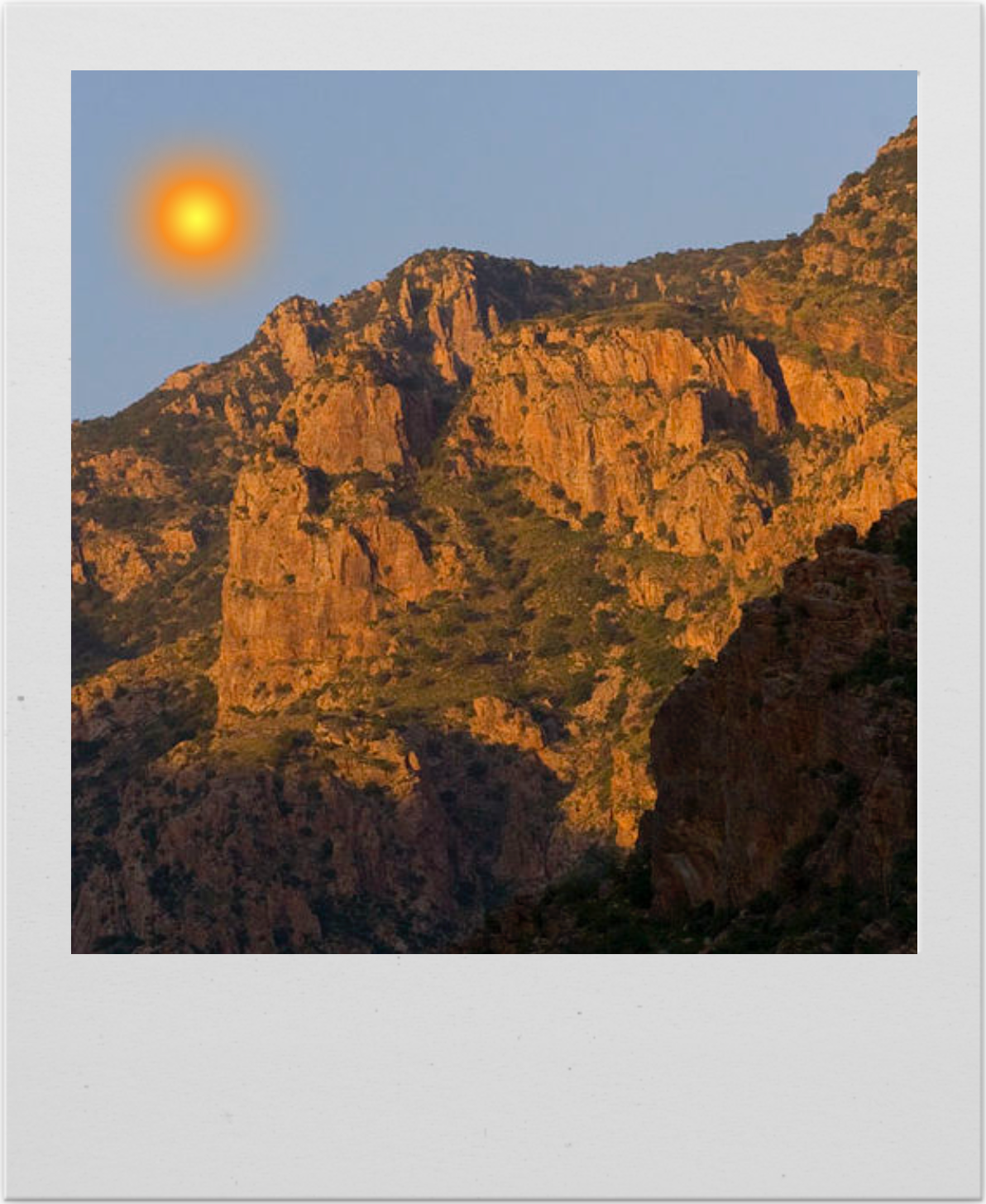 After dinner I pull a box down from the closet shelf to show Jack my secret collection of stolen hood ornaments. The expression on his face is a curious mix of puzzlement and disapproval. 
"What's the point?" he asks. 
"The point is to not get caught," I say. 
Meeting people is easy at Coronado, especially after I land a new job as paperboy, delivering the Tucson Citizen each evening and the Arizona Daily Star on Sunday mornings. Soon I know all the neighborhood kids and their parents by name. There are over 100 units in this apartment complex and almost everybody gets the paper.
Early on a summer Sunday before dawn, I sit cross-legged on the sidewalk in front of our building. I'm stuffing circular ads, Parade magazine, the coming week's TV listings and what Daddy Bill calls "the funny pages" into every fat copy of the Sunday Star. It's a big job but I've learned the secret to getting it done quickly. You line up the stacks in a row, like an assembly line, then you get the rhythm and power through. 
Twenty minutes later my hands are stained black with newsprint. I'm nearly ready to load up my big canvas delivery bag when I notice one of the inserts, a flyer for the March of Dimes Superwalk. I know better than to get distracted, but something special has caught my eye: the walkathon's third prize, a Panasonic stereo with built-in tape deck and automatic record changer. The machine calls to me like the crystal in Clark Kent's barn.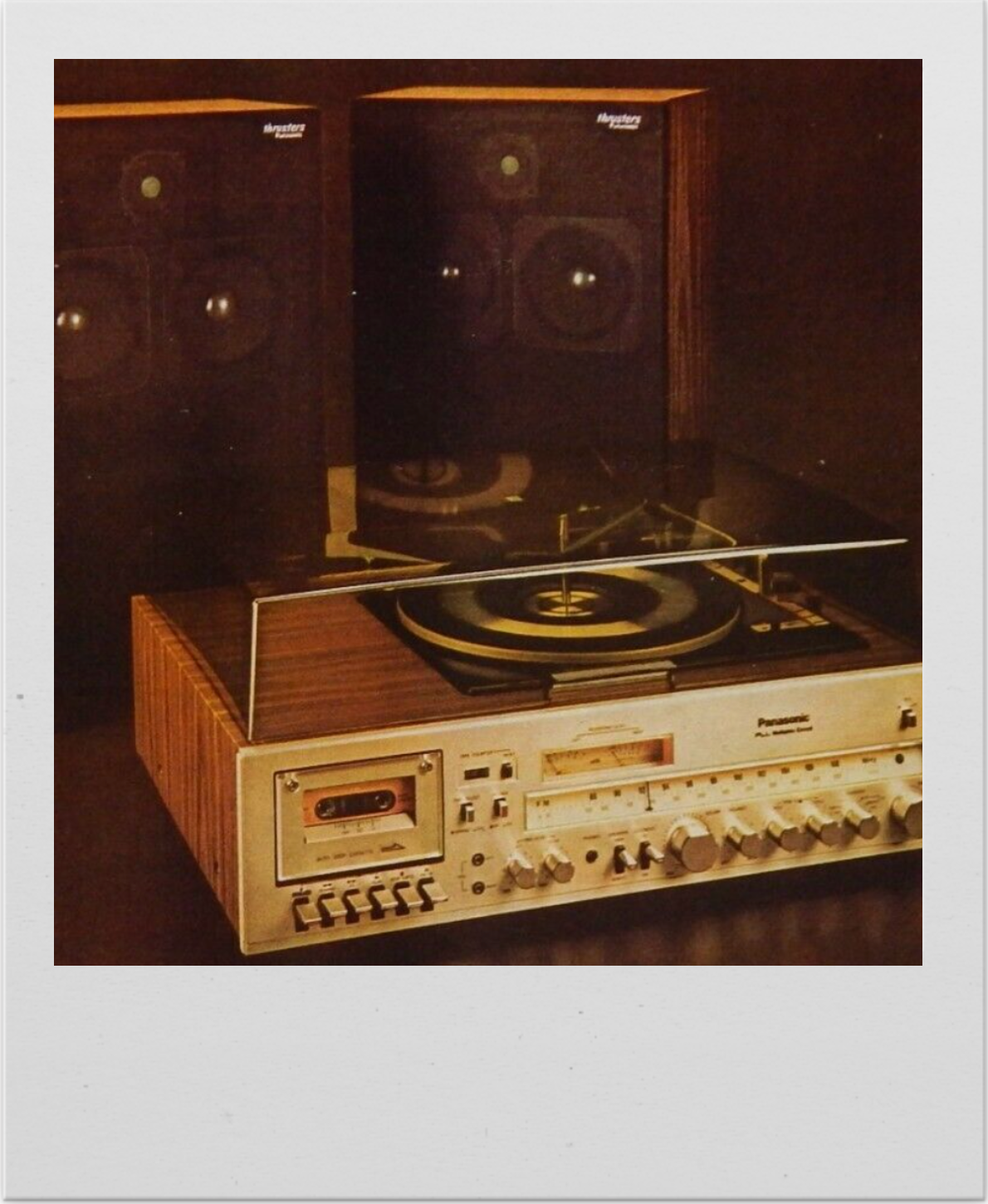 That week instead of the tips I usually collect on my rounds, I ask all my customers to sponsor me in the charity walk. "It's for a good cause," I explain, "and every page of sponsors I sign-up will put my name into the drawing again." I'm determined to win that stereo. 
I don't remember how many miles I walked or how much money we raised for the fight against birth defects. What I do remember is filling seven entire pages with pledges. Lucky number seven. Seven chances to win. 
The following Friday I wake to the sound of our telephone ringing. I stumble out of my bedroom into the kitchen, thinking Daddy Bill is probably calling to tell me when he'll be back from birding. But when I lift the receiver, it's not Dad on the line, but a hyper, exuberant Top 40 Radio DJ. 
"Good morning! This is KTKT, the Old Pueblo's number one station. Mr. Matheny, you are this year's grand prize winner in the March of Dimes Superwalk, and will soon be the proud owner of a brand new Chevy Chevette. Congratulations! How do you feel?" 
"I'm only thirteen," I said. "I wanted to win the stereo."
A few days later Daddy Bill takes me over to Matthews Chevrolet to claim my prize. Dad and I don't quite know what to do about this car, since he already has a new Toyota wagon and I'm too young to drive. Fortunately, the dealership's general manager comes up with a solution. 
"Tell you what young man," Tommy Stubbs says magnanimously, "How about I just cut you a check for the sticker price? That's three thousand, four hundred and fifty-five dollars." 
"That'll work," I say.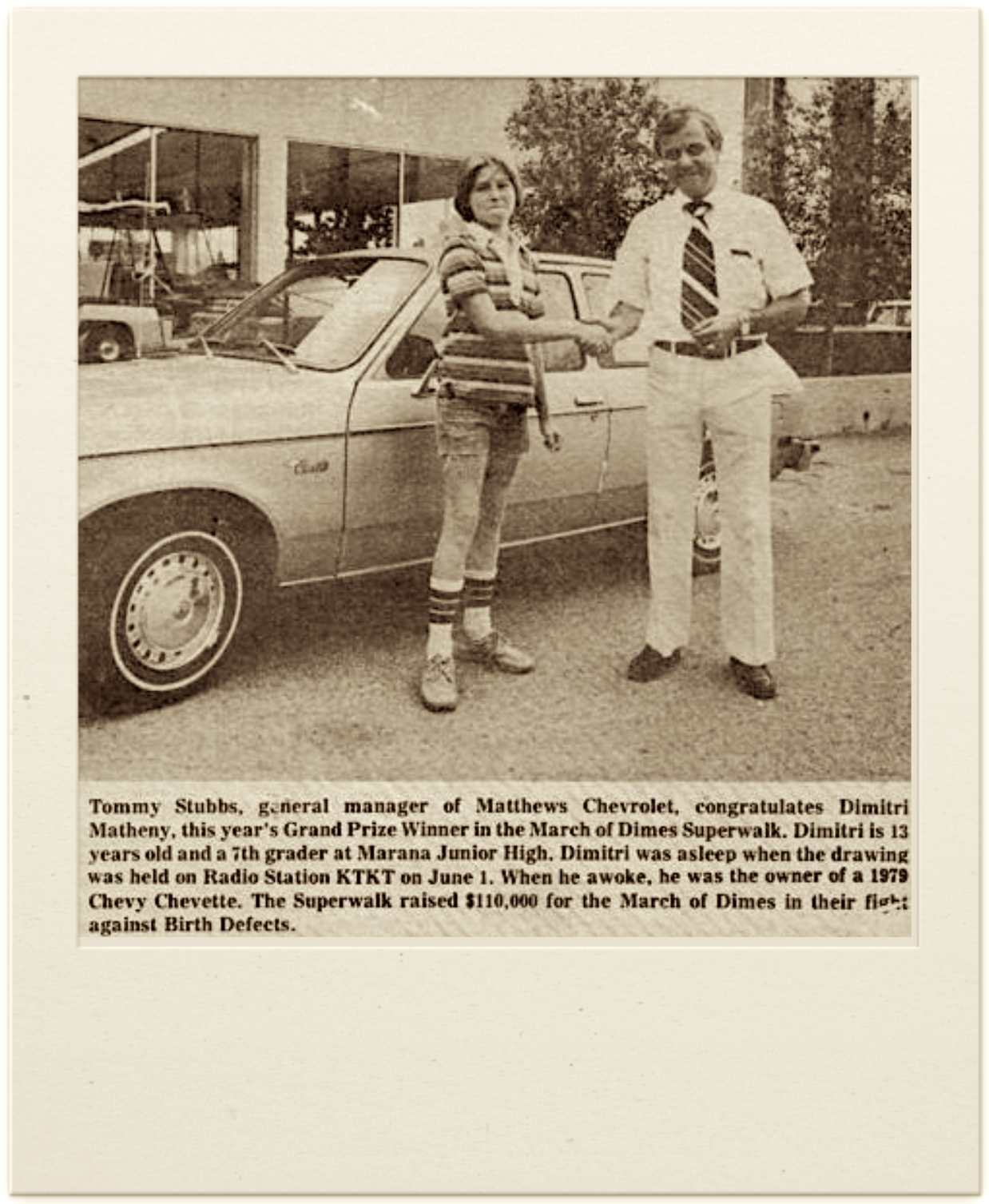 Dad drives me to the bank where I keep my yard sale winnings. I deposit three grand into the account and pocket the rest. 
In a single afternoon I bring home the exact stereo I've been obsessing over, three new LPs (Don't Look Back by Boston, I Am by Earth Wind & Fire, and Out of the Blue by ELO), and a ridiculous amount of swag from Spencer Gifts. 
I get busy transforming my room into my own personal nightclub. First I hang a beaded curtain in the doorway and mask my windows with aluminum foil to block the sunlight. Then I install two 17" black lights, a strobe, and a miniature mirrored disco ball. I cover my shelves with luminous bric-à-brac and all the walls with posters: Farrah Fawcett, Lynda Carter, Lindsay Wagner, a florescent cobra. Once everything is perfect I wire the whole shebang so I can turn it all on at once, lights and music, with one flip of the switch.
The result is spectacular.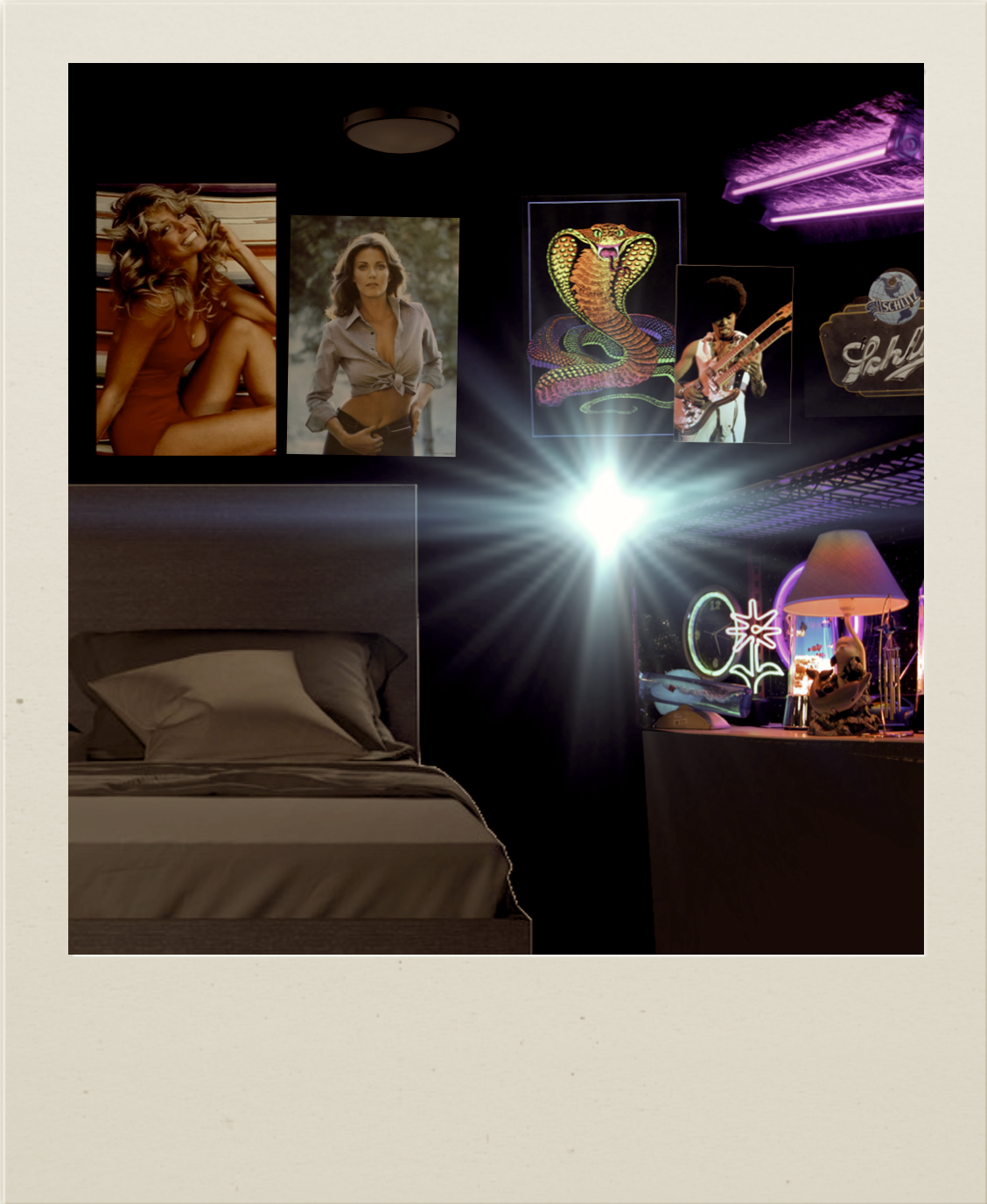 "What do you think?" I ask Daddy Bill. 
He grimaces. "I think it looks like a Den of Iniquity."