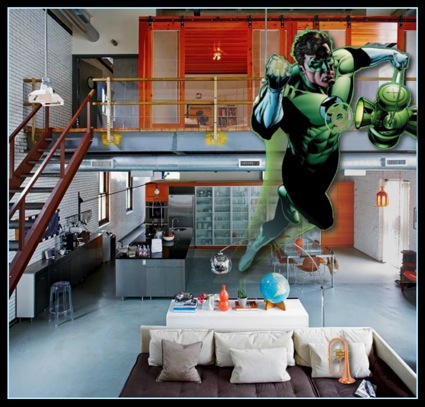 When I was young and asking the big questions, I learned most of what I still believe about loyalty, bravery and morality from the Silver Age superheroes in my comic book collection.
For real.
In later years I would travel internationally, study world religions, read classic works of philosophy and ethics, and even pay attention to my father's many lectures. I went to private school, public school, boarding school and the school of hard knocks. I'm an educated cat.
But to this day, when the world tests my mettle or challenges my sense of right and wrong, it's not Spinoza but my inner Green Lantern who shows up for the fight.
I've always been impressionable in this way. 
For example, I'm pretty sure I have a goatee because of the way Spock looked in "Mirror, Mirror." I know I started wearing dashikis in high school because of a picture I saw of Elvin Jones in Downbeat. I sport a beret on stage because Dizzy did.
Today, while watching Highlander for the godzillionth time, I noticed something about Christopher Lambert's home. Like so many characters in films of the 1980s and '90s, The Highlander lived in a loft.
It now occurs to me that my interior design preferences and bone-deep love of warehouse loft spaces and mid-century modern furniture are not based on anywhere I've lived or anything I've seen or studied. They don't reflect some sophisticated notion about the aesthetic requirements of an artist's life. They aren't because I need space to rehearse and create.
Nope. I learned about loft living from the movies. Dig: 
William Sanderson in Blade Runner (1982). Jennifer Beals in Flashdance (83). Lambert in Highlander (86). Barbara Hershey in Hannah and Her Sisters (86). Mickey Rourke in 9-1/2 Weeks (86). Tom Hanks in Big (88). Billy Crystal in When Harry Met Sally (89). Rosanna Arquette in New York Stories (89). Nancy Travis in So I Married An Axe Murderer (93). James Caan in Bottle Rocket (96). Ethan Hawke in Great Expectations (98). Julianne Moore in The Big Lebowski (98). Adam Sandler in Big Daddy (99). Christian Bale in American Psycho (00). Owen Wilson in Zoolander (01). Olivier Martinez in Unfaithful (02).
I want their cribs!
Thanks, Hollywood.
(Sure hope this flugelhorn thing works out.)