"Men have a desire for stability, security, repetition and order in their lives. 
At the same time they have a tendency to want to flee, 
to meet the adventure, and to destroy." 
—Stanley Kubrick 
I've never been much of a joiner. 
Never had much use for clubs or cults or crowds. 
Large gatherings and groupthink make me uncomfortable. 
It's one of the reasons I prefer playing an intimate jazz venue over a huge music festival. It's why, even though I'm a serious Green Lantern collector, I can't bring myself to attend Comic-Con. It's why I never cared much for church or theme parks or spectator sports. It's even why, at the apex of my Buddhism studies, I had to leave the San Francisco Zen Center. I could handle the silent sitting, but as soon as the chanting began, I got the willies and hightailed it the hell out of there. 
But of all the creepy crowds I've ever encountered, none compare to The Owl Club. 
Our story begins in the early '90s, at San Francisco's elegant Herbst Theater, where the brilliant blind pianist Gordon Fleecing is playing to a full house. Fleecing and his trio are in fine form, enchanting the sophisticated audience with their witty and clever takes on the Great American Songbook.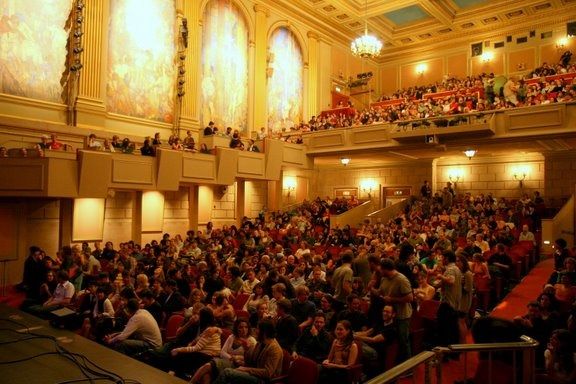 I'm standing in the wings wearing my only suit, feeling like a fraud as my boss and I peer through the curtains at the well-heeled crowd. I'm only half listening to the music, because I'm there in a professional capacity, not as a jazz musician, but as a fledgling fundraiser. I've recently begun writing grants and selling sponsorships for the concert's producer, the mercurial jazz impresario Kendall Lane. 
"Isn't this great?" Kendall asks, squinting and smirking in triumph. His smile, if you can call it that, seems weirdly disingenuous, but the man has good reason to feel proud. The concert is a sold-out success and many of the city's movers and shakers are in attendance. Tonight is a big night for our scrappy little organization. 
At that moment something curious catches my attention. While improvising over the unmistakable chord changes to Autumn Leaves, Fleecing begins to play a different theme, something whimsically wistful, redolent of a European folk song.
This melody is unfamiliar to me, but a smattering of applause around the recital hall suggests that a dozen or more of our patrons have immediately recognized the song's provenance. From our position at the side of the stage, we can see several captains of industry making eye contact with one another and nodding their heads in approval as Fleecing transforms the simple melody into a grandly majestic anthem. 
In the lobby at intermission, I walk over to greet Charlie Higgins, the sponsor of tonight's show. 
I dig Charlie. He carries himself like one of the "good old boys" back home. He's the real deal, a true believer and a genuine music lover with a jovial nature and a ready handshake. You wouldn't know it to look at him, but Charlie is a great philanthropist, too. He and his candy company have underwritten nearly every significant jazz event on the west coast for years. 
"Isn't this great?" I repeat Kendall's line.
"Yes, indeed!" Charlie smiles broadly. 
"Hey, what was that song Fleecing quoted?" I ask. "You seemed to recognize it." 
"The Soul of Bavaria," Charlie replies. "It's a favorite at the club. Fleecing is a longtime member." 
"Ah, the club. Of course." I nod solemnly, understanding nothing. 
"Why don't you join me there for lunch next week," Charlie asks casually, as if the idea had just occurred to him. 
"It would be my pleasure," I accept. I'm mystified but intrigued by the surprise invitation. 
That night over dinner I consult my wife. She seems to have an innate understanding of such things. 
"I've been invited to lunch next week with Charlie Higgins. I'm not sure why. I think it's at a private club. Do you know of a club in the city where an American executive and a British jazz pianist would both be members?" 
Her eyes widened. "You mean The Owl Club?
We'd better get you a new suit."