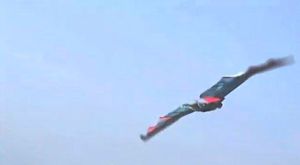 I've been following the story of Dutch engineer Jarmo Smeets, who claims to have cracked the code on how to fly like a bird.

Inventors since Leonardo have been trying to do this. We've been able to create wings for gliding at high altitude, but the engineering challenge has been that if you make the wings large enough to support the weight of a person, no human being is strong enough—or can flap his arms fast enough—to achieve lift-off.

Smeets says that his breakthrough is using the motion detector from a Nintendo Wii to power small rotors, so that only short, brisk movements of his arms are necessary to power the flapping of the wings. With a running start, he says, he and his wings can take flight.

His YouTube videos are impressive.

The science community, however, is skeptical about the videos. Apparently Smeets' alleged credentials don't check out, either.

Too bad.

As someone who has dreamed of flying nearly every night since childhood, I want so badly to believe that this is possible!
~DM