Remember the song "Fame?" 
Not the groovy David Bowie ear worm. The other one: 
Fame! I'm gonna live forever 
I'm gonna learn how to fly 
High! I feel it coming together 
People will see me and cry 
Fame! I'm gonna make it to heaven 
Light up the sky like a flame 
Fame! I'm gonna live forever 
Baby remember my name 
Remember? 
"Fame" was a major showbiz anthem of the '80s, a big hit for Irene Cara, and the titular theme song of a popular movie and television series. 
I watched Fame every Thursday night. I had no idea whether New York's High School for the Performing Arts was real or fictional, but the premise of a special school for talented teens? Seemed pretty magical to me. To this day, when I hear that song I can't help but sing along.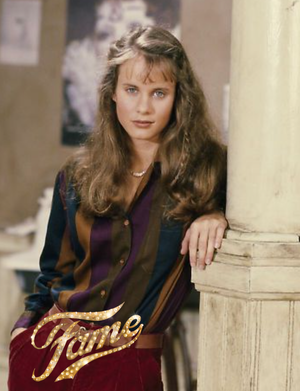 Lori Singer as "Julie" in Fame
My school in Arizona couldn't have been less like Fame. Nobody at Canyon del Oro was gonna "learn how to fly" or "live forever," least of all some skinny little pep band trumpeter with delusions of grandeur. 
I could really see myself thriving, however, in a place like that Fame school. It wasn't the bright lights of New York City that attracted me so much as the notion of being among my own kind. 
How glorious it would be to collaborate every day with other young creatives! Learning from experts, making music together, attending plays and exhibits, talking about art! I just knew I could find friends in a place like that, and maybe even meet a girl like Julie, the gorgeous but shy cellist/dancer on Fame (huge crush). 
So when the opportunity came along for me to transfer to a private, arts-centered boarding school, I didn't hesitate.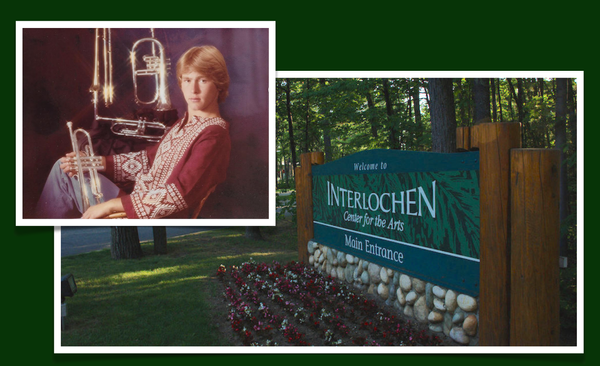 Interlochen Center for the Arts (Interlochen MI), home of Interlochen Arts Academy and National Music Camp;  Inset: pep band trumpeter with delusions of grandeur
Interlochen Arts Academy was everything I'd dreamed of, a community of misfits and eccentrics, just like me. For the first time, I was living among kindred spirits my own age: painters, sculptors, actors, dancers, writers, musicians. I was home. 
Like LaGuardia High School, on which the Fame school was based, Interlochen emphasizes both arts and academics, attracting students from all over the world to prepare for higher education while training for careers in the arts. But unlike LaGuardia, which is situated in the heart of Manhattan's upper west side near Juilliard and Lincoln Center, the Interlochen campus in located in a rural Michigan pine forest between two lakes. 
The secluded setting made my experience at Interlochen feel more like living in an artist colony than a boarding school. The year-round Interlochen Arts Academy had grown out of the prestigious summer National Music Camp, utilizing many of the same rustic cabins, classrooms and dormitories. 
I staked out my practice spot early on: the boiler room in the basement of our residence hall. Each morning I would take my horn down there to warm up with long tones and scales before the school day began.
I loved that cozy little bunker more than all the grand stages and recital halls on campus. It was my sanctuary. When I returned to IAA many years later as a visiting artist and clinician, that room was the first place I asked to see. Although the building had been renamed, I was gratified to find that my little boiler room had not changed a bit.
Interlochen is where it all began for me, no joke. It's where I learned the discipline required to build a life in the arts, and how rewarding the artist's life can be.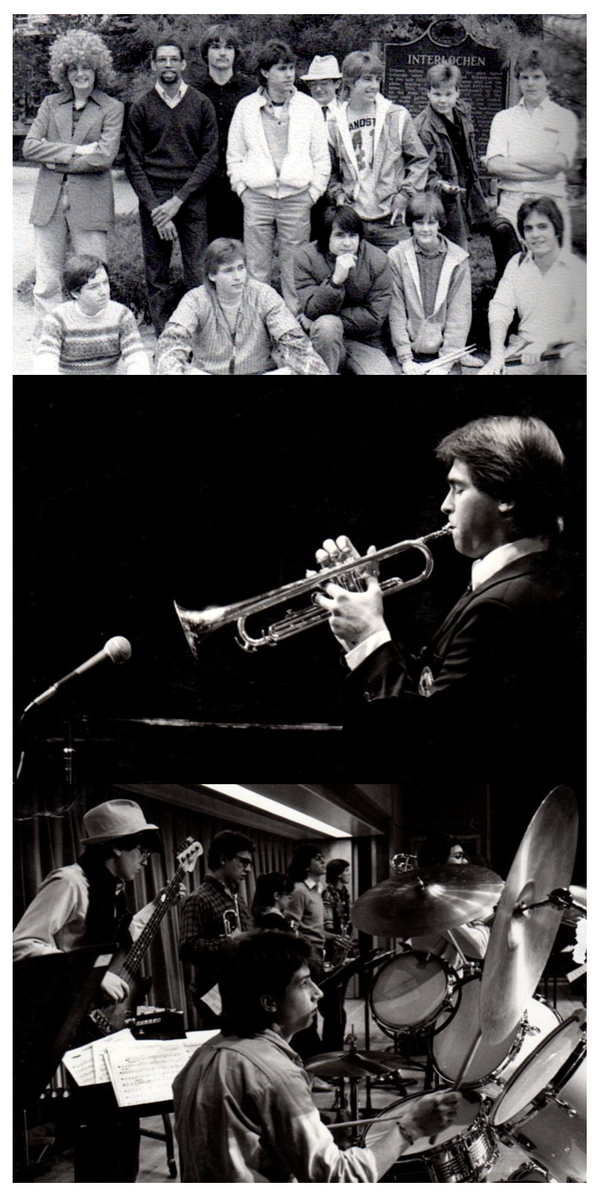 Top: IAA Jazz Combos, DM front, second from left; Middle: performing with IAA Studio Orchestra, Corson Auditorium; Bottom: Stud Orch rehearsal, DM rear left
"You've got big dreams.
You want fame?
Well, fame costs.
And right here is where
you start paying: in sweat."
—Lydia Grant, Fame
Interlochen taught me to work hard and stay humble, an ethos that would inform nearly all my future life choices.
It's where I came to understand the artist's vaunted, leadership role in society, the public expectation to fulfill one's calling, and the private responsibility to develop one's capabilities -- not necessarily in the pursuit of fame -- but toward the creation of something meaningful and lasting. 
The pressure to succeed in our lives and careers was explicit. Students who published a poem or won a concerto competition were celebrated by the entire student body. Those elite few who were named Presidential Scholars In The Arts were treated as mini-celebrities, with a pomp normally reserved for football team captains and homecoming royalty back home in the Lonesome Desert. A day did not pass without someone "sounding the call," enjoining the Gifted Youth to get it together, buckle down, and level up.
I recall walking to class through the Concourse, a long hall of glass display cases, where the photos and accomplishments of notable Academy graduates were displayed. Seeing all their awards and accolades, knowing that these extraordinary young women and men -- now making waves in Hollywood, Chicago, the capitals of Europe -- had started their journeys in this very place? Inspiring! Intimidating, too.
If there is an Interlochen Doctrine, it is the notion of artistic talent as both a precious gift and a sacred responsibility.
"What will you contribute?" asked one of our teachers from the stage of Kresge Auditorium, the pledge Dedicated To The Promotion Of World Friendship Through The Universal Language Of The Arts adorning the wall behind her.
"What will you create for posterity?" she challenged us. "History remembers the artists and the conquerors, creators and destroyers. You are creators! Tomorrow's leaders. So make your lives count! We're counting on you." 
That kind of ideological rhetoric, grandiose as it was, really resonated with me.
I've never worked harder or had more fun than I did at Interlochen. I'm grateful to have made several lifelong friends there, too, including my mentor and jazz professor, bassist Tom Knific, now a dear colleague and frequent collaborator. 
And yes, I even got to know a "Julie" or two ... but that's a story for another time.