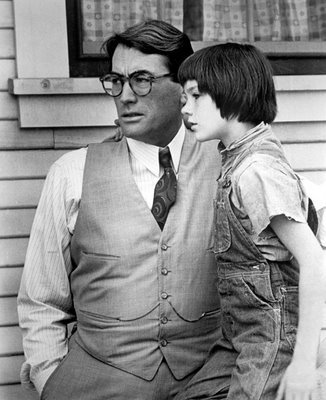 I first read Harper Lee's southern gothic story To Kill a Mockingbird when I was 12, at the Brookstone School in Columbus, Georgia.

I was too young to fully appreciate the novel's themes, but its compelling characters made a deep and lasting impression, ultimately becoming part of my personal mythology.

I've always aspired to be like ATTICUS FINCH:  a beloved, respected, tireless crusader and a morally upright community leader.

Atticus is educated, honest and articulate, yet free of racial and class prejudice. He does not hold himself to be superior to his neighbors. In fact, he hides his extraordinary skills (for example, he's an expert marksman) until they're necessary. Atticus is the intersection of supreme intellectual confidence and absolute social humility.

As it turns out, I'm no Atticus Finch.

I'm more like BOO RADLEY: a pale, reclusive, misunderstood shut-in.

I keep to myself, emerging for the occasional creative, caring or heroic act. These go, for the most part, unseen, unsung and unpunished.

And I'm more like the MOCKINGBIRD: I don't do much but make music for folks to enjoy...(and that's why it's a sin to kill a mockingbird).

Congratulations, Ms. Lee, on the 50th anniversary of the publication of your masterpiece -- and thank you.