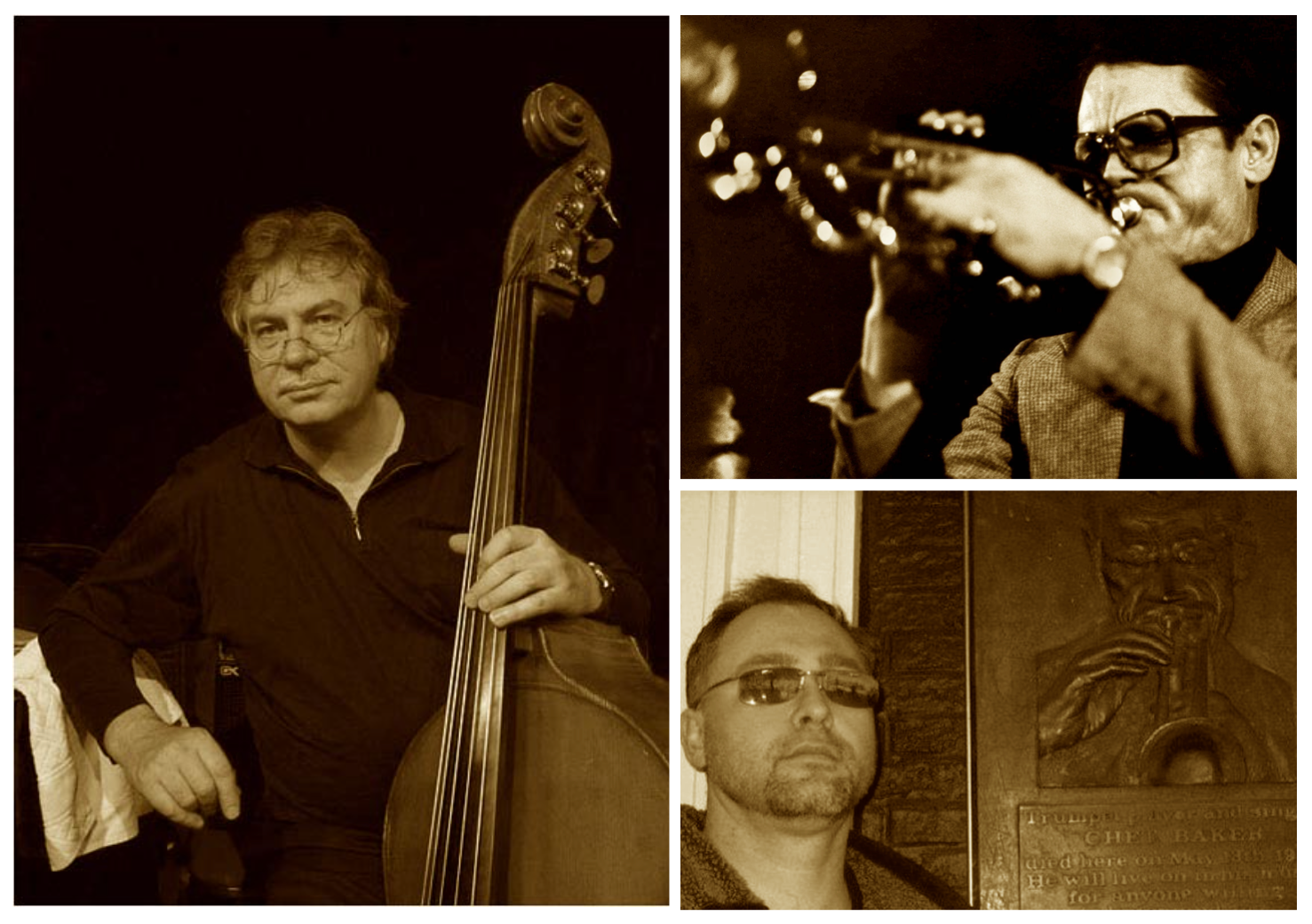 Clockwise (L-R) bassist Jean-Louis Rassinfosse, Chet Baker, Dmitri Matheny at the Chet Baker Memorial in Amsterdam
The first Chet Baker recording I ever heard was not one of his celebrated cool jazz hits from back when he looked like James Dean and played like Miles Davis. 
No, I fell in love with Chet in the 1980s, long after his heyday, when he was struggling to play on new dentures and looked more like Clint Eastwood at the end of Pale Rider. Chet was living in Europe at the time, and the album that captivated me, Crystal Bells, showcased his working Belgian trio with guitarist Philip Catherine and bassist Jean-Louis Rassinfosse. 
It was that sound that got me. Chet's warm tone and halting, yet lyrical lines, were imbued with a fragile, searching quality that hit me like a bullseye right in my melancholy teenage heart. 
I must have listened to that album a thousand times. 
The drummerless trio provided the perfect balance of interactivity and space for the old explorer, who seemed to be finding his way back from some kind of profound loss.  At the time, I didn't know anything about Chet's troubled history, but it was all there, laid bare, in the music. 
I felt as if I had found the secret key to a soulful world of authenticity and deep feeling. 
Chet died a few years later and my appreciation for him only grew.
When I had the opportunity to work with Jean-Louis Rassinfosse in the Netherlands, I told him how much I loved Crystal Bells.
Jean-Louis smiled broadly. "Chet didn't even have a horn, you know," he said. 
"He'd long ago sold it for drug money. But he kept the mouthpiece in his pocket." 
The veteran bassist then described their routine, how each morning they would call ahead to the next little village on tour and invite all the brass players in the area to come down to the club with their horns. 
"At sound check there would be this little row of open instrument cases on the stage," he said. "Chet would go down the line, try out a few different horns, pick one, and that would be the instrument he played that night!
"Sometimes trompet, sometimes kornet or bugel, every night a different instrument," Jean-Louis said. "But he always sounded like Chet.
"It was that sound, that same sound, always," Jean-Louis marveled. "And every night, somebody would ask, 'How do you get that amazing tone? What kind of instrument is that?' as if the horn itself was somehow magical.
"But it was just Chet. It was all Chet." 
I love this story and 100% believe it to be true, as it confirms my long-standing belief in music as a mystical force, and in master musicians like Baker as sorcerers. The embouchure and equipment are important, but they are secondary. What matters most is your intention. 
"Get your mind right," Art Farmer once advised. "You are the instrument. That thing that you're holding is just an amplifier."
"It isn't the horn," John Coltrane famously said. "You can play a shoestring if you're sincere."